The Polynesian Voyaging Society and its culture and education legacy partner, Kamehameha Schools, are preparing for intercultural and educational exchange with fellow indigenous communities throughout the Pacific from 2021 through 2026. This site provides access to voyage-based cultural crew curriculum and indigenous cultural learning resources aligned to the trans-Pacific sail plan. The primary purpose of this site is to promote a shared body of Pacific indigenous knowledge and a common oceanic worldview among PVS voyagers, Hawaiʻi learners and educators, the Pacific indigenous community, and the greater world.
KEALAIKAHIKI:
The traditional ala kai (sea road) that connects the pae ʻāina o Hawaiʻi to its Kahiki homeland is called Kealaikahiki, "the path to Tahiti." It is a dynamic heritage highway with "on and off ramps," and a hemispheric expressway that stretches across the equatorial Ka Houpo o Kāne, the intertropical convergence zone. Click the following links to learn more about this ancestral corridor.
---
---
NEW HOLOMOANA WEBSITE:
Interested in training for a virtual voyage? Visit the Holomoana Waʻa Learning Resources Website to learn some basic voyaging skills, celebrate our wayfinding lineages, and hear stories from novice and experienced PVS crew.
View the Moananuiākea Overview to learn about the cultural and educational goals of the Polynesian Voyaging Society's Moananuiākea Voyage for the Pacific.
The following Holomoana Introduction tutorial provides easy to follow instructions to assist users in navigating various sections of the website.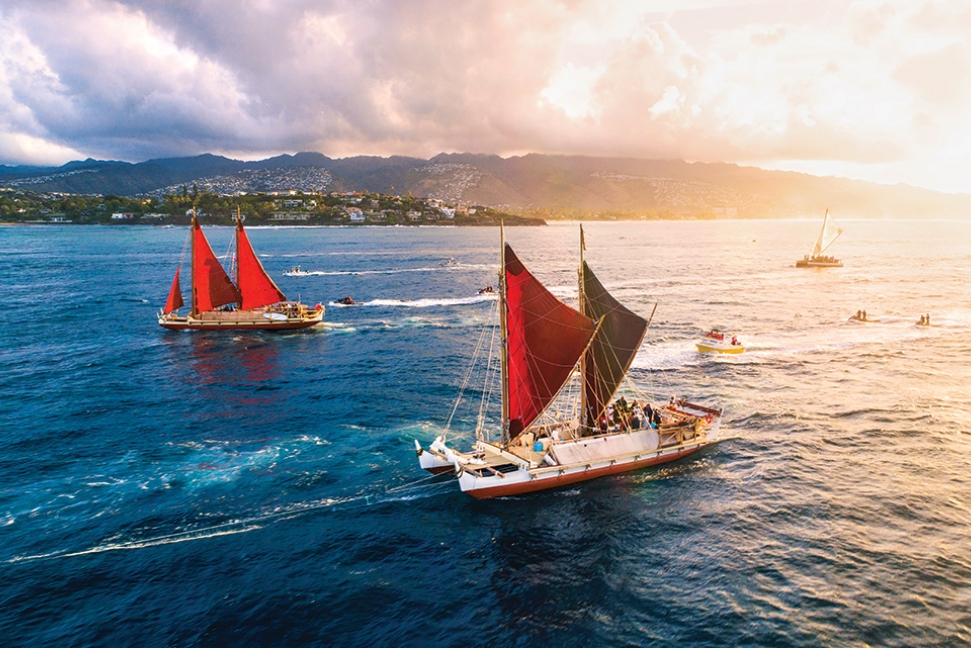 Here are some important dates to remember in Hōkūleʻa's sail plan:
June
Kānemilohaʻi Sail
(French Frigate Shoals)
July
Hawaiʻi Pae ʻĀina Sail
(Inter-island training)
Sept.
Kealaikahiki Voyage

Kahoʻolawe
Ka Lae, Kaʻū
Ka Houpo o Kāne

Oct.
Arrive French Polynesia

Pae Tuamotu
Marae Taputapuātea, Raʻiātea
Papeʻete, Tahiti
Tautira, Tahiti

Nov.
Depart Tahiti

Fakarava, Tuamotu
Nukuhiva, Marquesas

Dec.
Kahoʻolawe
---
Coming this July and August for learners of all ages!
Cultural Crew Training Modules:
1. Kealaikahiki (sea road between Hawaiʻi and Tahiti)
2. Ka Houpo o Kāne (intertropical convergence zone / doldrums)
3. Marae Taputapuātea (sacred voyaging heritage site in Raʻiātea)