ʻAuhea e nā hoa makamaka o ka Moananuiākea — waipuna lau ke aloha ē! Welcome to this compendium of exciting educational resources devoted to Pacific learning and engagement. Each lesson is a pūʻolo, a ti-leaf bundle of knowledge filled with information and insight about our ancestral oceanic heritage.
Prezi Videos
MOANANUIĀKEA:
Are you aware that the entire moon can fit easily between Hawaiʻi and California? Did you know that Polynesians are the youngest in a linguistic family tree that originated some 6,000 years ago in the region known today as Taiwan? These and many more interesting facts about people, places, and ancestral voyaging technology can be found in these pūʻolo — rich bundles of heritage.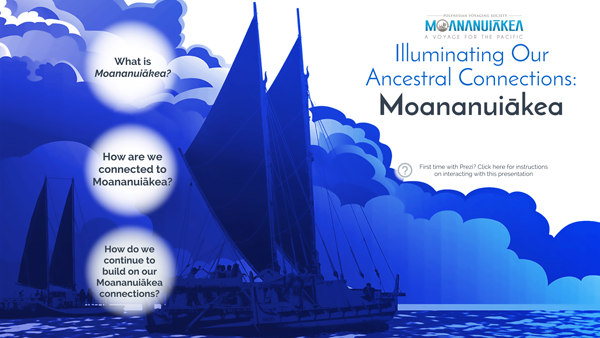 ---
KEALAIKAHIKI:
For many centuries, our kūpuna traveled back and forth along Kealaikahiki, the ancient sea road between Hawaiʻi and our Kahiki homeland (Tahiti and other related archipelagos). Learn more about this ancestral highway and the heritage corridor that crosses over Ka Piko o Wākea (the equator) between the northern and southern hemispheres.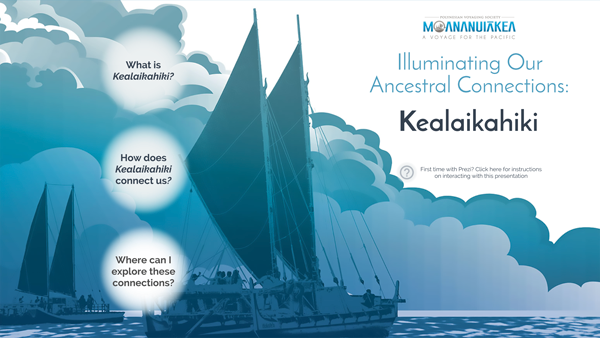 ---
TAPUTAPUĀTEA:
Marae Taputapuātea in Raʻiātea is one of the most sacred sites in Polynesia and is particularly important in our traditional navigation and voyaging heritage. Explore and learn more about this revered UNESCO World Heritage Site.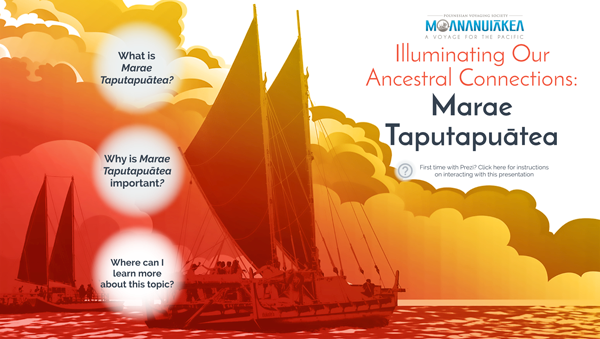 ---
NGĀTI RUAWĀHIA:
In 1985, the Hawaiian voyaging canoe Hōkūleʻa made landfall in Waitangi, Aotearoa. Ngāti Ruawāhia is a unique tribal designation honoring the kinship between Hawaiians and the Māori of the Tai Tokerau region that resulted from the arrival, kept alive through the decades by Kamehameha Schools. Learn more about the history of Ngāti Ruawāhia and our strong connections across Moananuiākea in this presentation.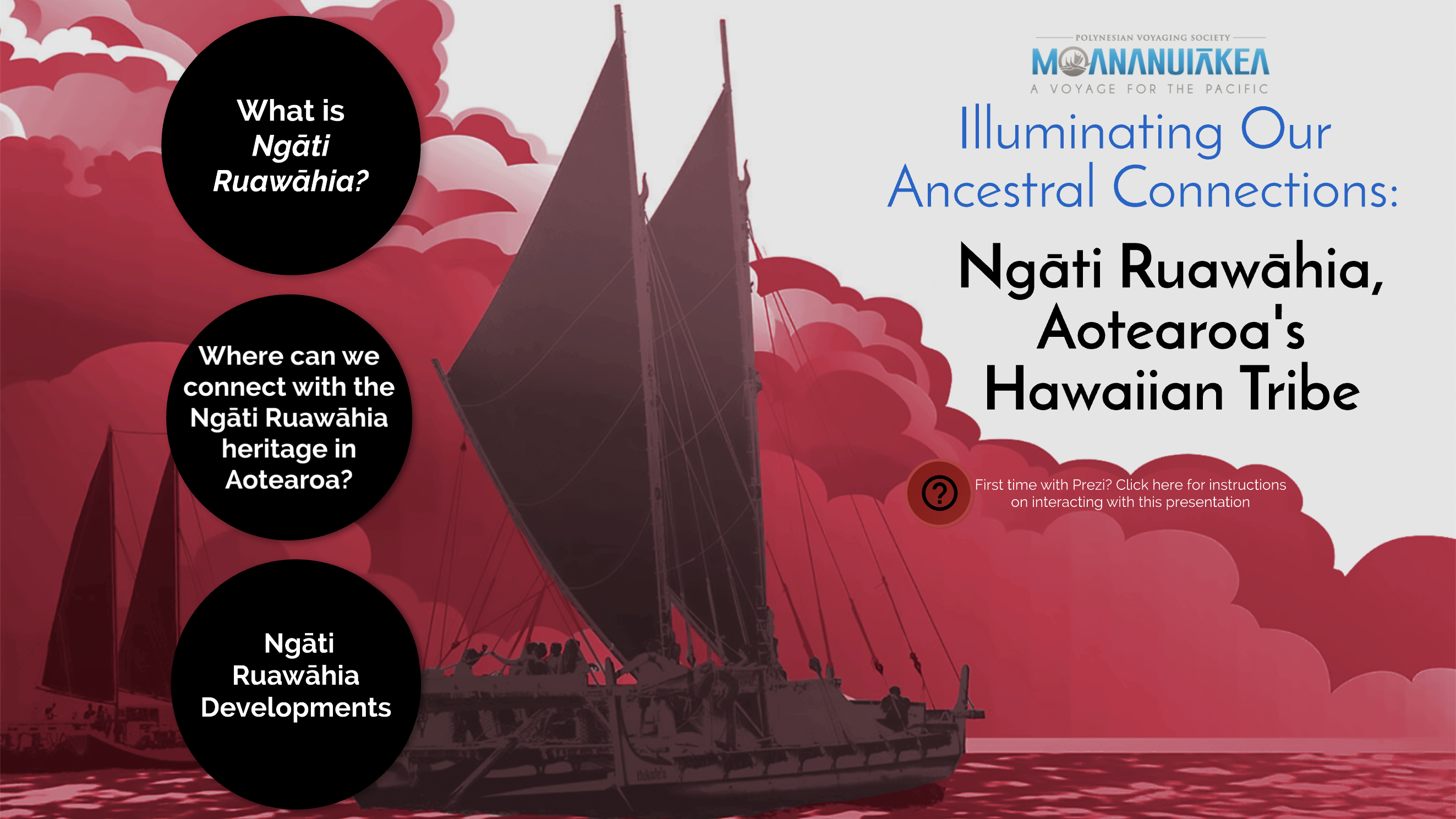 ---
ALASKA:
When one thinks about the great expanse of the Pacific Ocean and where it touches, the ice-cold shores of Alaska may not be the first place that comes to mind! However, in 1990, efforts to construct a canoe out of traditional materials brought Alaska and Hawai'i together as Hawai'i's forests did not have koa logs big enough to be carved into a double-hulled sailing canoe. Learn more about the unique relationship between Alaska and Hawai'i and the work we are doing together for Moananuiākea.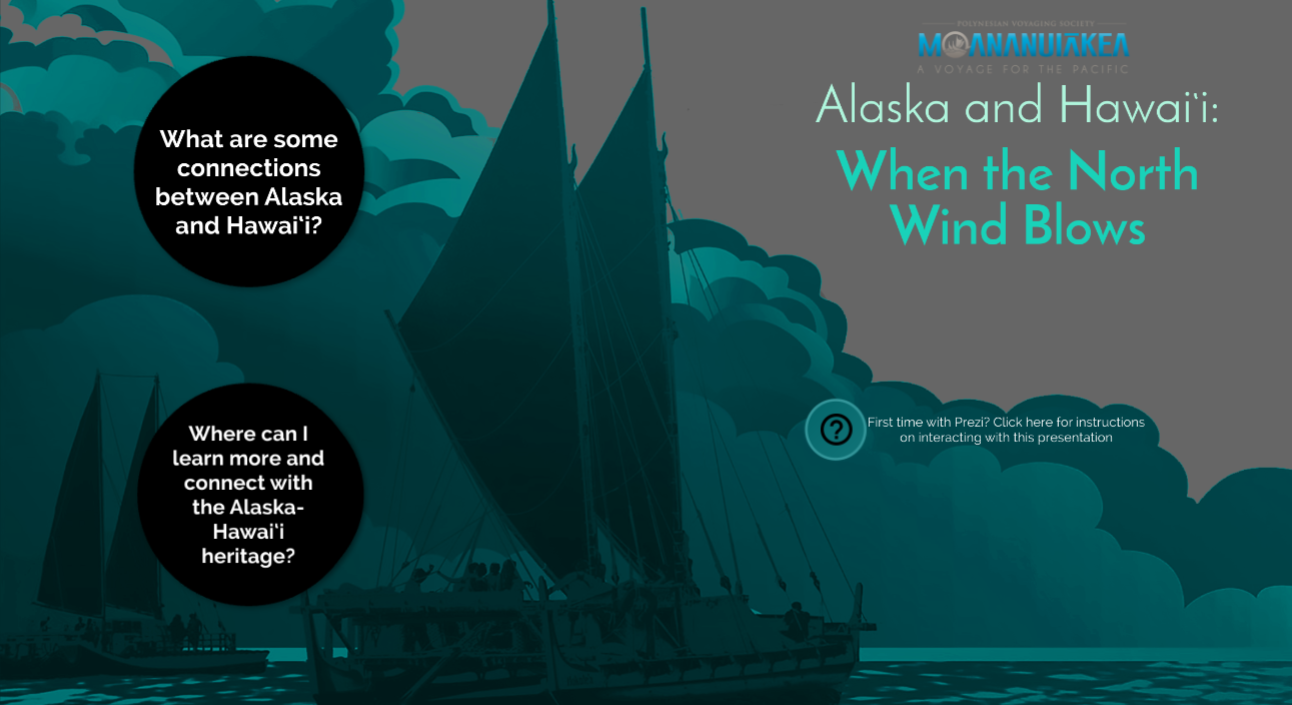 Additional Resources
HOLOMOANA:
Holomoana is a Native Hawaiian place of learning for voyagers of the world. As part of KS Digital, Holomoana includes a wide variety of educational resources centered around voyaging for students and teachers created by the Kamehameha Schools. Let's dive in!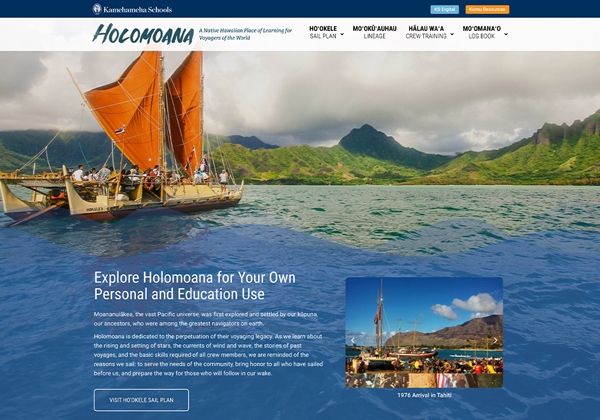 ---
WAʻA HONUA:
The Waʻa Honua website seeks to inspire new generations of navigators by celebrating wayfinding in the Pacific as a means to mālama honua (care for the earth). A rich content library and voyage dashboard make the Waʻa Honua website a valuable resource for all. Kau ka peʻa, holo ka waʻa!