KEALAIKAHIKI
Our Hawaiian identity is born from a rich Polynesian heritage shaped by our oceanic universe, Moananuiākea. Understanding Hawaiʻi's connections to the greater Pacific world is fundamental to who we are as Hawaiians. The most important leg on that critical voyage of self-discovery is the pathway to our motherland, our place of origin — Kahiki.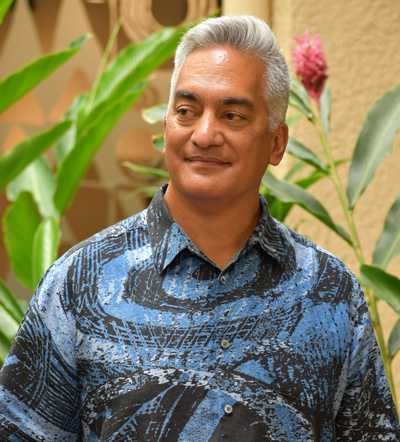 Inspired by the exchange of knowledge at the He Kama Na Kahiki Symposium held at the Kaʻiwakīloumoku Hawaiian Cultural Center, Kamehameha Schools, in June 2019, Native Hawaiian artist and scholar, Dr. Herman Piʻikea Clark, created the provocative artwork, "Kealaikahiki." Piʻikea awakens the heritage corridor with beams of light shining across Ka Piko o Wākea, the equator, to illuminate a single outstretched tentacle of the Feʻe Nui, the Great Octopus, as it writhes in its sacred ancestral abode Havaiʻi—today's Raʻiātea. Gifted to Kaʻiwakīloumoku, the artwork made its world premiere in the form of framed prints that were gifted to President Édouard Fritch and Minister Heremoana Maamaatuaiahutapu of the French Polynesian Government, Mayor Thomas Moutame and the elders of Taputapuātea Marae, and Mysco Pōmare Kilian, Royal Pōmare Family heiress, during a series of declaration signing ceremonies in Tahiti and Raʻiātea in November 2019.
---
What is Ke-ala-i-kahiki? The Pathway To Kahiki...
Kealaikahiki is the name of an ancestral sea road that forms a heritage corridor connecting Hawaiʻi and the Kahiki Homeland. It consists of multiple access points like "on- ramps and off-ramps" that provide optimal times and conditions for traveling. Kahoʻolawe (also referred to as Kanaloa, god of the sea) is an important ancestral marker for the Kealaikahiki pathway. The ʻili (small land division), the point, and the channel—all known as Kealaikahiki— as well as the mokupuni, the island of Kahoʻolawe itself, are geographic markers on the Hawaiʻi side of the heritage corridor.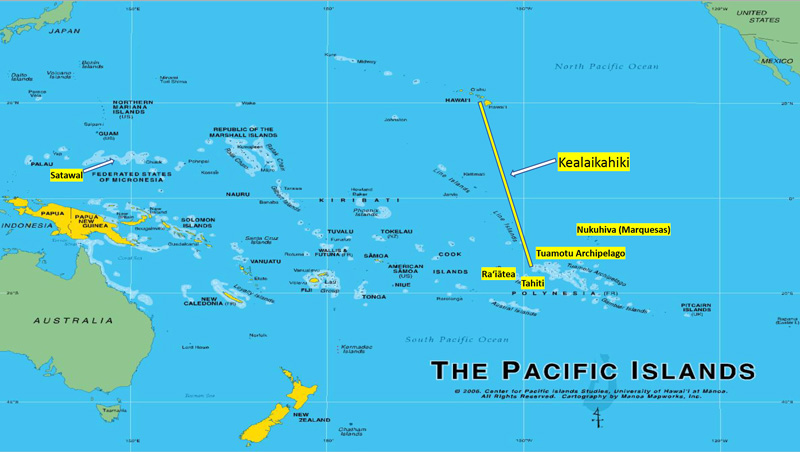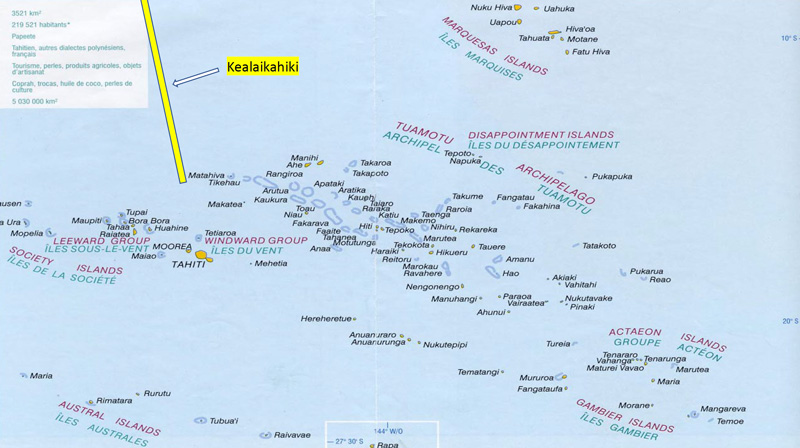 "Kahiki Homeland" is a general reference to the lands that our ancestors migrated from and sailed back to on return visits. Hawaiʻi shares a strong cultural affinity with the Society Islands, the Tuamotu Archipelago, and the Marquesas Islands, and together they constitute a regional homeland that figures prominently in traditional Hawaiian stories and chants. These islands are geographic markers on the Kahiki side of the heritage corridor.
Raʻiātea, whose ancient name is Havaiʻi, is the location of Taputapuātea Marae, a highly sacred religious site associated with voyaging, governance, and Eastern Polynesian chiefly lineages. The heʻe/feʻe (octopus) is a metaphor for Raʻiātea as the center of a cultural alliance consisting of island groups that are under the influence of its radiating tentacles — the northernmost extremity being Hawaiʻi. (Havaiʻi-Raʻiātea Centered Map with Octopus Motif: "Vikings of the Sunrise," 1938 by Dr. Peter H. Buck, aka, Te Rangi Hiroa)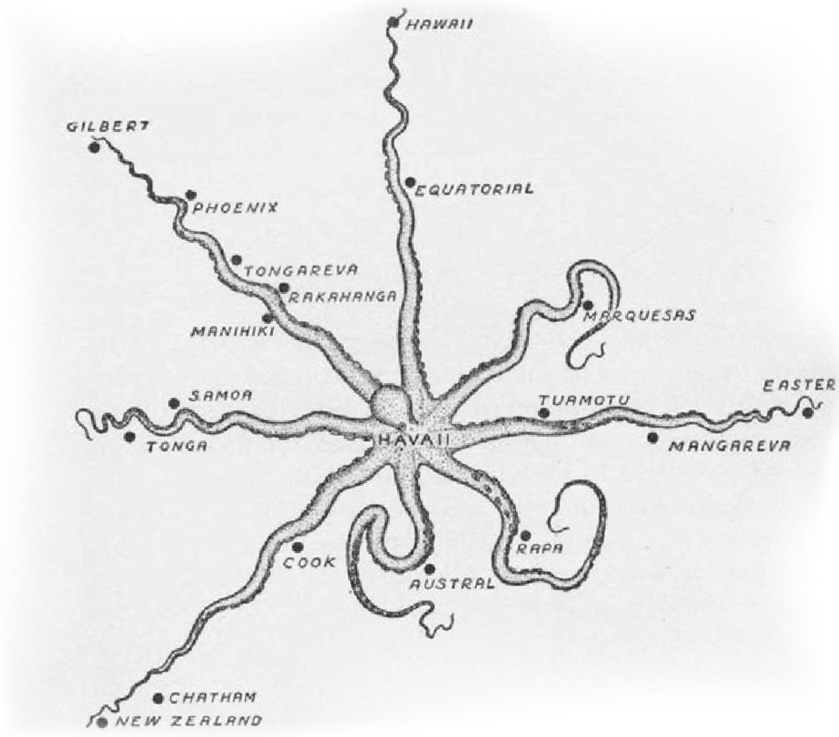 What is "He Kama Na Kahiki?"
With the islands of Tahiti days behind them, Kamahualele, the navigator priest and foster son of Chief Moʻikeha, expressed awe and wonder upon seeing the dramatic southeastern coastline of Hawaiʻi Island. In the famous 12th century allegory "Eia Hawaiʻi," he extols the virtues of Hawaiʻi as both an island and a man, a child of Kahiki — "he kama na Kahiki."
On June 18, 2019, the He Kama Na Kahiki Symposium convened at the Kaʻiwakīloumoku Hawaiian Cultural Center at Kamehameha Schools Kapālama. A group of Native Hawaiian community leaders, educators, navigators, and cultural practitioners with insights about Tahiti and the expansive idea of "Kahiki Homeland" were invited to participate. This day-long symposium explored the ancestral foundation of Native Hawaiian identity that is genealogically rooted in Kahiki and examined the many ways Hawaiians express their affinity for this heritage region today.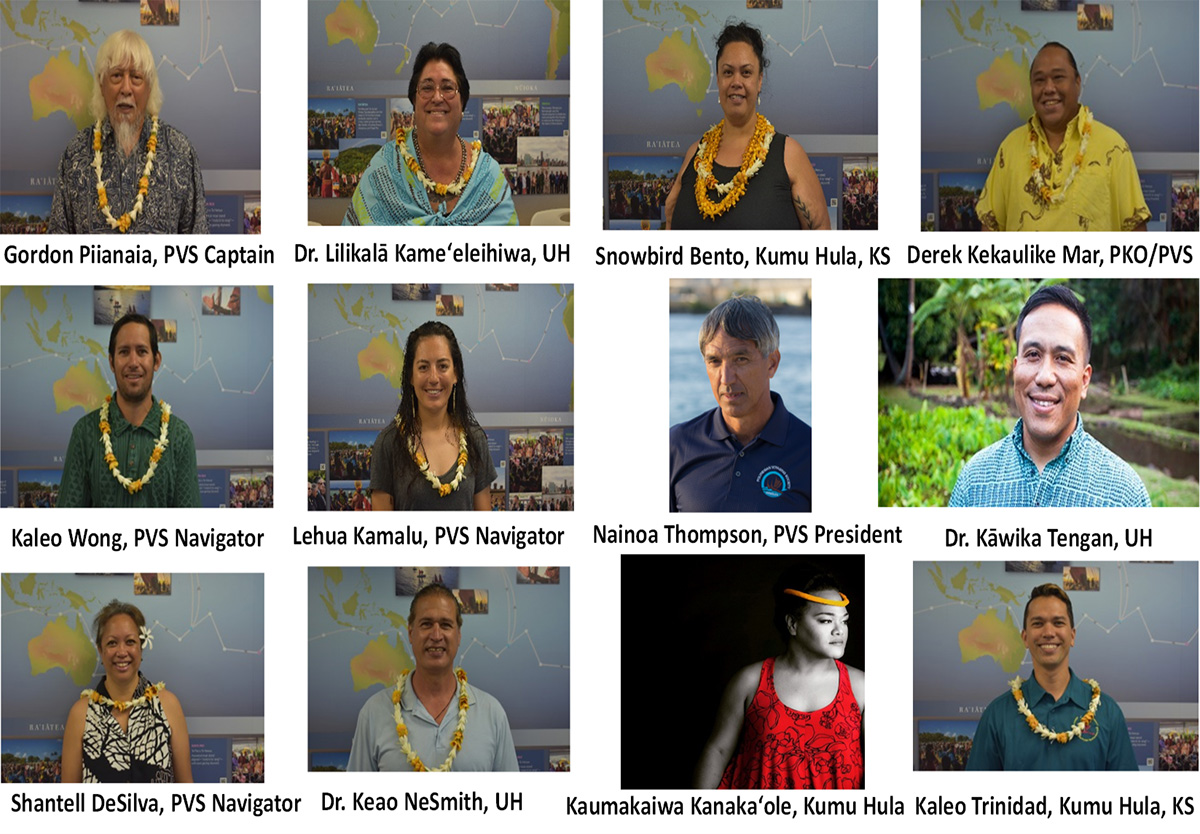 He Kama Na Kahiki Symposium
Below is a link to the final report on the findings from the He Kama Na Kahiki Symposium.
He Kama Na Kahiki Report
[downloadable pdf]
Kealaikahiki Orientation
[downloadable pdf]
Kealaikahiki Guided Orientation, with audio
[narrated powerpoint]
Lāhui Rising: Kealaikahiki
See the link below for a recording of a live-streaming event featuring He Kama Na Kahiki symposium participants sharing insights and personal reflections on Kealaikahiki — its past, present, and future.
Lāhui Rising https://www.facebook.com/KamehamehaSchools/videos/1576778929144588/?v=1576778929144588