FRENCH POLYNESIA
Learn More About
Ia ora na — Aloha! ʻAha Moananuiākea honors the strong cultural relationships between Kānaka Maoli, Native Hawaiians, and Māʻohi, the indigenous people of French Polynesia, which include shared love of our lands and waters, our peoples, our languages, and our identities. On this page, you will find a range of resources — maps, websites, videos, and materials — that provide general background on the region, its people, and cultures. Learners of all ages and backgrounds are invited to immerse in this rich Pacific heritage and explore topics of interest at a self-directed pace. Mauruuru — Mahalo!
French Polynesia is a vast oceanic region extending some 1,200 miles (approximately 1931km) across the central Pacific. Its five archipelagos, made up of 118 islands and atolls, have been inhabited by Polynesians for well over two millennia, and under the political control of France since 1842.
The Society, Austral, Tuamotu, Marquesas, and Gambier island groups are home to distinct Polynesian cultures that all share a cultural affinity strongly influenced by the Society Islands, particularly the island of Tahiti. The country's capital city is Papeʻete and French is the official language of government, business, and education. However, Reo Māʻohi, the Tahitian language, is used widely as a medium of daily communication and a proud marker of indigenous identity by the majority of the population who are of native ancestry.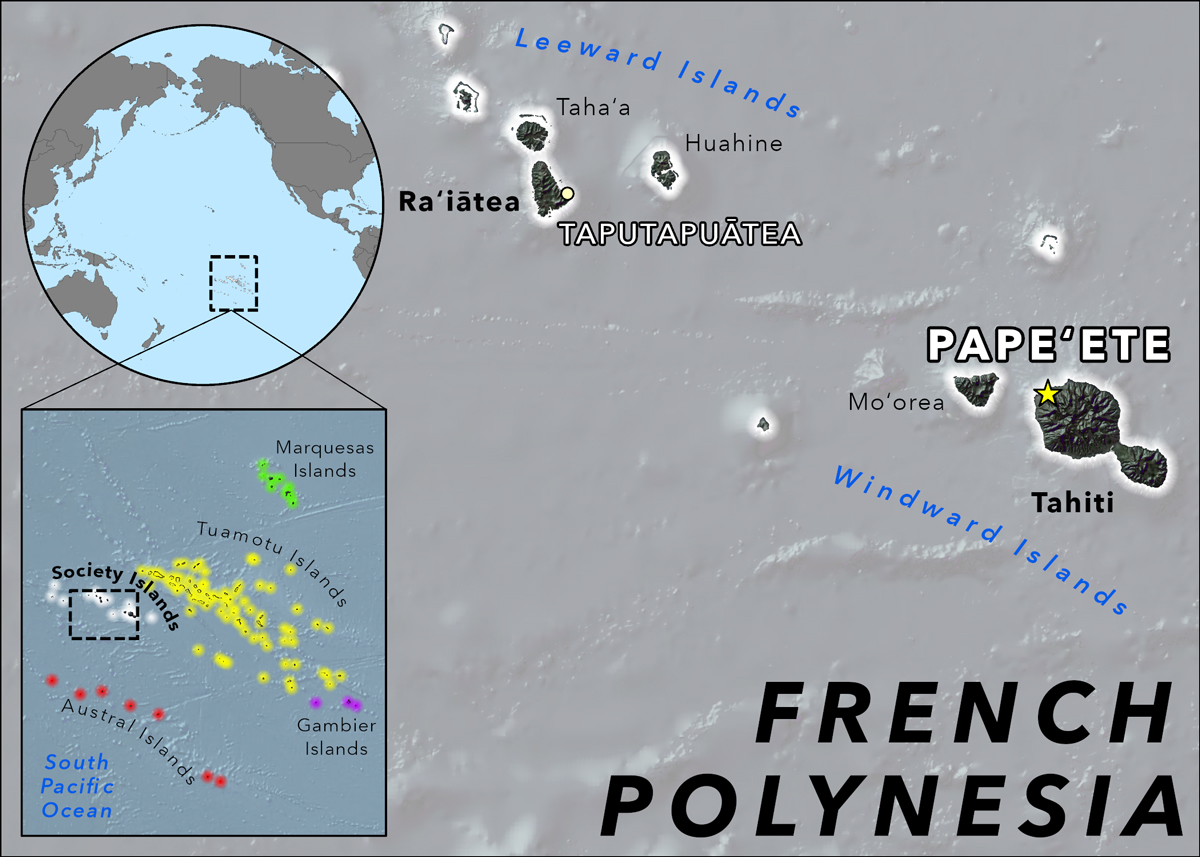 Map of French Polynesia
[Downloadable pdf]
Hawaiians revere Tahiti and view the entire surrounding region as an ancestral homeland — our place of origin, Kahiki. Shared genealogies, histories, practices, beliefs, and language were transported both ways along this heritage corridor between Hawaiʻi and Kahiki, which Hawaiians know as an ancient well-traveled sea road called Kealaikahiki. We invite you to explore this special pathway to French Polynesia, the ancestral home of the Hawaiian people.
For ʻAha Moananuiākea partnerships in French Polynesia and more about Kealaikahiki, see the links below: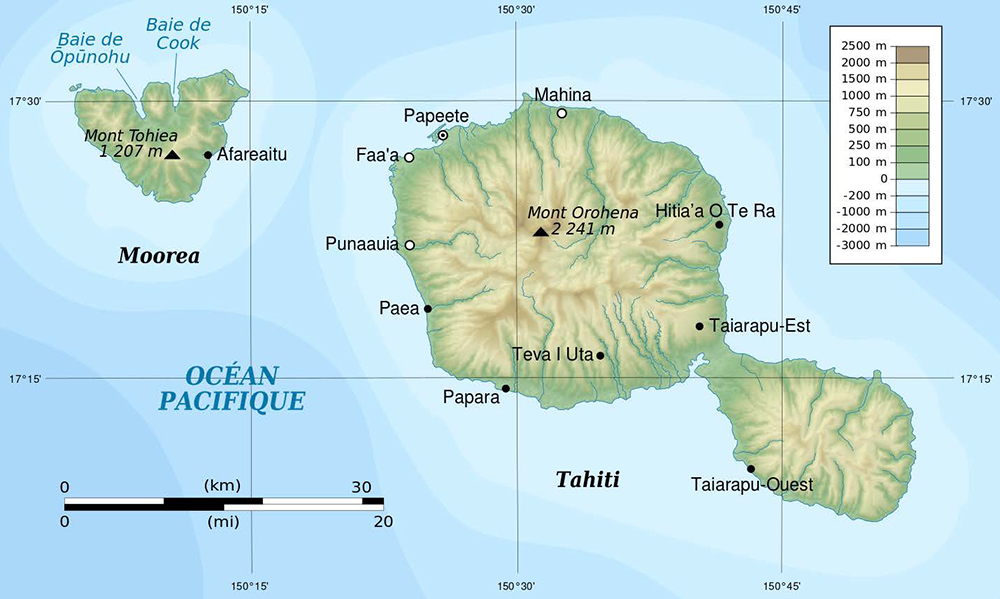 Tahiti and Its People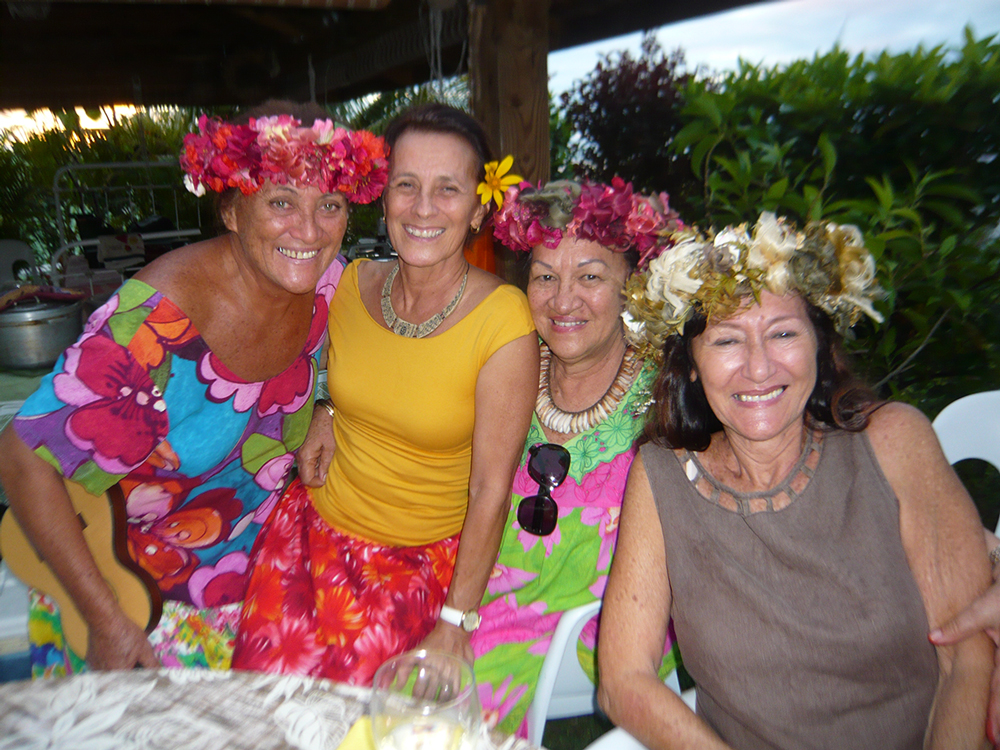 • Tahiti Heritage
- Polynesian Collaborative Encyclopedia
https://www.tahitiheritage.pf/
This highly informative and innovative site covers a wide range of interests from history, landmarks, and notable people, to plants, cultural sites, and legends.

• Tahiti.com
– Discover the Islands of Tahiti
https://www.tahiti.com/travel/about-tahiti
This tourism website gives a good overview of French Polynesian history and culture, with stunning photos of people and places, as well as compelling on-screen effects.

• Tahiti Facts for Kids
This student-focused website includes general information on Tahiti.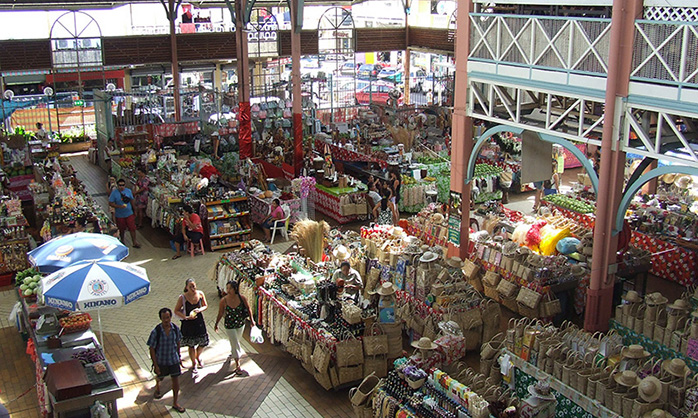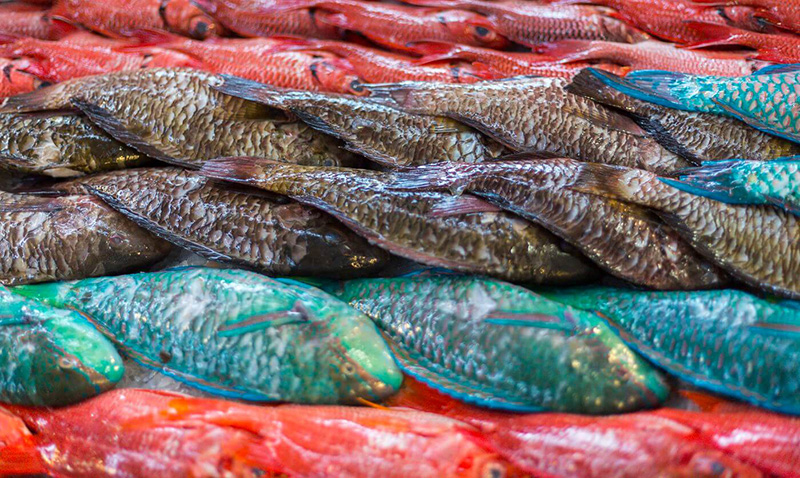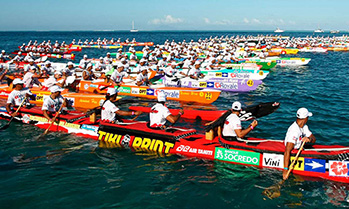 Dance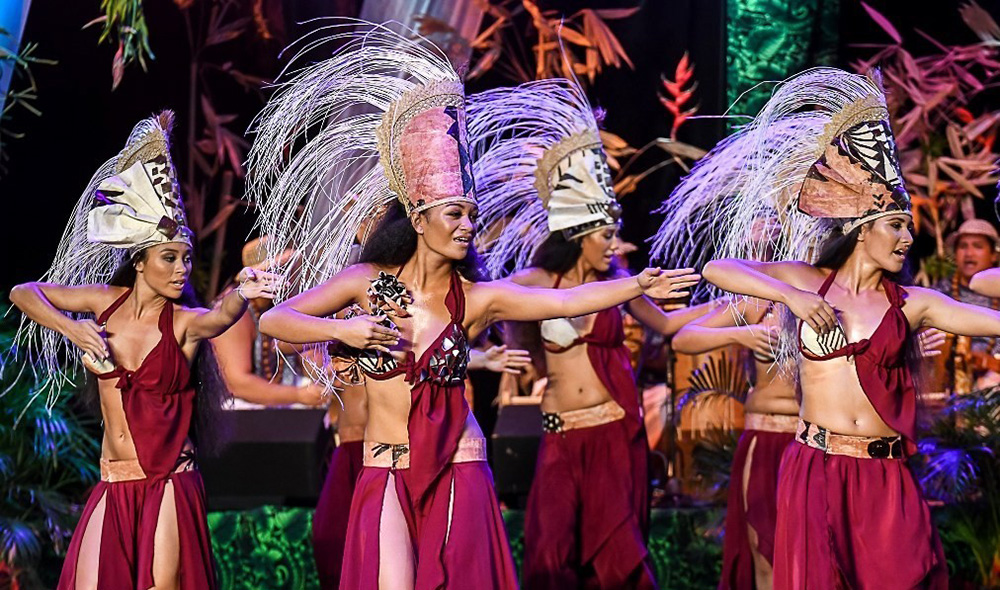 • Heiva: The Ancient Dance and Sports of Tahiti (Video)
https://www.youtube.com/watch?v=qG7teMgkCGo
This looks at the most recent Heiva 2019, Tahiti's week-long competition of songs, and highlights dancing, traditional games, and costume making with long-time Heiva participant ʻO Tahiti Ē. Duration: 22:32

• Heiva i Tahiti
https://www.heiva.org/fr/accueil/
This is the official website of the Heiva – Tahitian Cultural Fête held in Papeʻete every July. The site houses songs, participating group performances, and information regarding a variety of events held throughout the month.
Language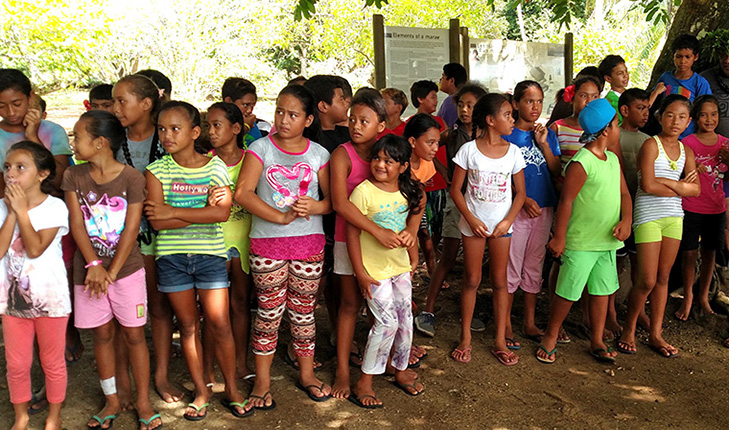 Voyaging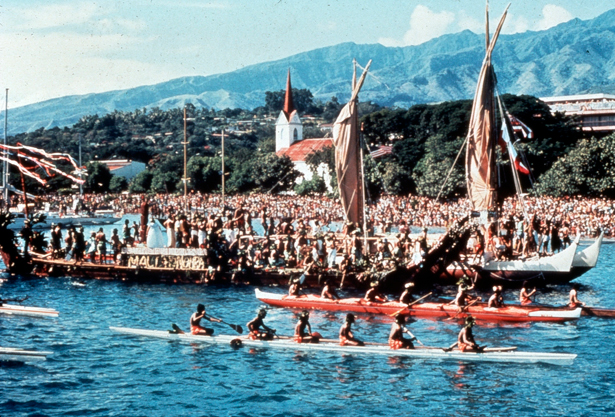 • Faʻafaite – Tahiti Voyaging Society (Faʻafaite I Te Ao Māʻohi)
https://okeanos-foundation.org/Faafaite/
In lieu of an official website, the Faʻafaite – Tahiti Voyaging Society can be accessed through this portal housed in the Okeanos Foundation website.

• French Polynesia Mālama Honua Declaration
https://www.hokulea.com/wp-content/uploads/2016/08/Tahiti-Malama-Honua-Declaration.pdf
This PDF shows the original declaration between French Polynesia, Tainui – Friends of Hōkūleʻa and the Polynesian Voyaging Society.

• Hōkūleʻa: French Polynesia's Gift to the World
https://blog.nationalgeographic.org/2014/08/04/hokule%CA%BBa-french-polynesias-gift-to-the-world/
This National Geographic article, written by Daniel Lin, covers the arrival of Hōkūleʻa in Tahiti in 2014, upon completion of the first leg of the Mālama Honua Worldwide Voyage, and the signing of the French Polynesia Mālama Honua Declaration.

• Hōkūleʻa Arrives in Tahiti – May 2014 (Video)
This video features the 2014 arrival of Hōkūleʻa and Hikianalia in Tahiti and subsequent visits throughout Polynesia, sponsored by Hawaiian Airlines. Duration: 15:27

• Tupaia the Navigator, Priest and Artist
https://www.bl.uk/the-voyages-of-captain-james-cook/articles/tupaia-the-navigator-priest-and-artist
In this article from the British Library, Professor Dame Anne Salmond and Huw Rowlands discuss the impact of Tupaia on Cook's voyage on the Endeavour.

• Tupaia: Master Navigator (Video)
https://www.youtube.com/watch?v=0Tbk42MKd8o
NoeNoe Barclay-Kerr, an apprentice navigator-in-training, describes where Tupaia came from and how his mastery of wayfinding technology influenced Captain Cook's voyage on the Endeavour. This resource is well-suited for middle and high school students. Duration: 2:27

• Tupaia's Map
https://www.tandfonline.com/doi/full/10.1080/00223344.2018.1512369
This PDF shares the story of Havaiʻi-Raʻiātea navigator Tupaia. His knowledge of wayfinding helped British voyagers like Captain Cook to map out the Southern Pacific Ocean and engage the Māori of Aotearoa.

• Worldwide Voyage: Tahiti Arrival Celebration May 2017 (Video)
http://www.hokulea.com/worldwide-voyage-tahiti-arrival-celebration/
Housed in the official Hōkūleʻa website, this video and article features footage from Hōkūleʻa and Hikianalia's arrival in and subsequent visits throughout French Polynesia. Duration: 3:58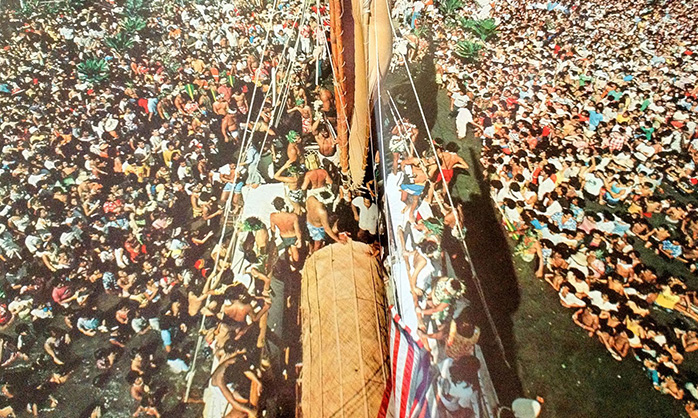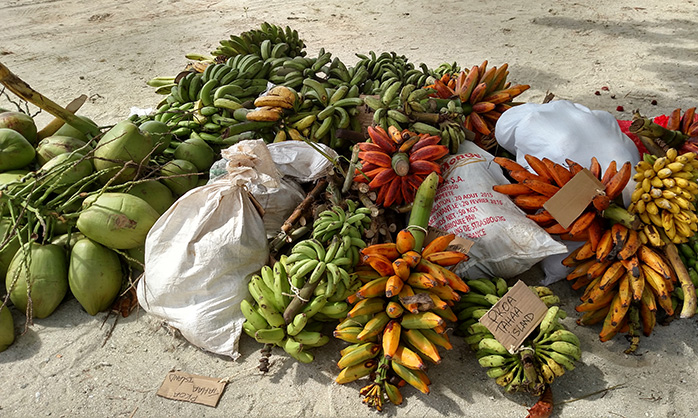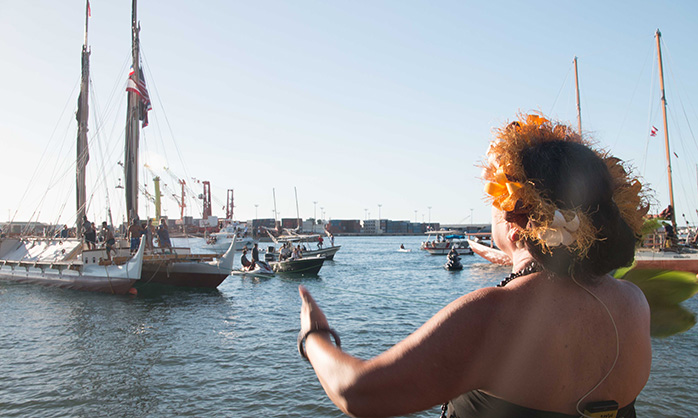 Raʻiātea and Taputapuātea Marae
Raʻiātea is part of the leeward group in the Society Islands. With an area of 92 sq. miles (approximately 148 km) and mountain peaks just over 3,000 ft (approximately 914 m), it shares a lagoon with nearby Tahaʻa and is home to about 13,000 residents. The spirits of the departed are thought to gather at the heights of its sacred mountain, Te Mehani, the only place in the world where the half-blossom, ʻApetahi, can be found.

Along its southeastern coast is Marae Taputapuātea, a highly revered religious site for trans-Pacific pilgrimages by chiefs and navigators to preserve traditional voyaging knowledge and affirm alliances. For centuries, marae stones were taken to other island groups (i.e., Tahiti, Tuamotu, Rarotonga, Hawaiʻi, etc.) where new temples were established, also called Taputapuātea. The marae was designated as a UNESCO World Heritage Site in 2017 and remains a mecca for traditional landfall ceremonies for voyaging canoes like the Hōkūleʻa.

For information on the ʻAha Moananuiākea partnership with the mayor and elders of Taputapuātea Marae, as well as the Hawaiian sea road, Kealaikahiki, click the following links: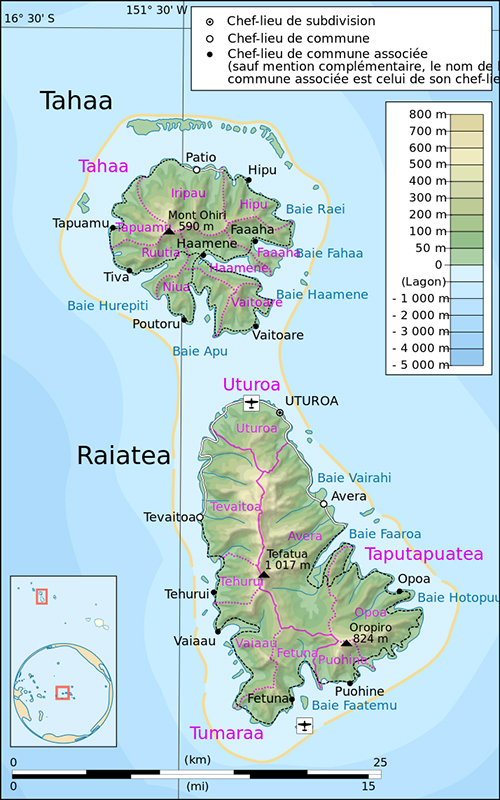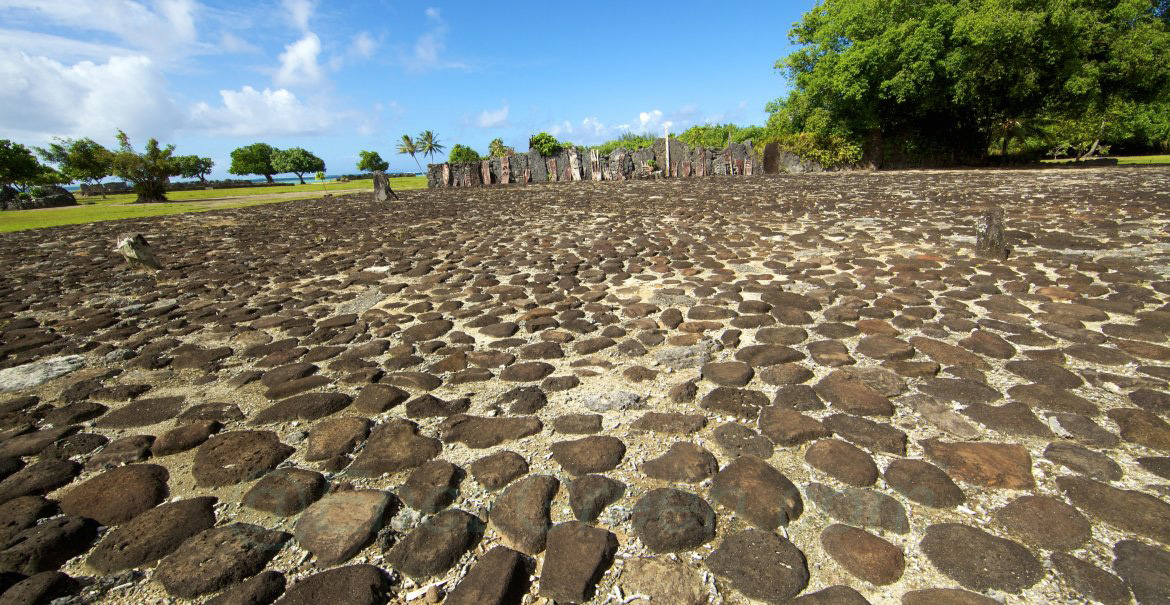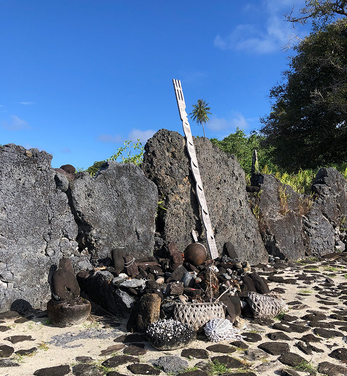 • Taputapuātea: The Cradle of the Polynesian People (Video)
https://www.youtube.com/watch?v=wXbJXHR8-3g
This video was created by the French Polynesia Ministry of Culture. It gives a brief history and background on Taputapuātea Marae on Raʻiātea. Duration: 6:54

• UNESCO World Heritage List – Taputapuātea
https://whc.unesco.org/en/list/1529/
This official UNESCO webpage is dedicated to Taputapuātea Marae and its recent distinction as a World Heritage Site.

• Taputapuātea: The Legend of Taʻaroa (Video)
This short animation, with English subtitles, introduces the Taʻaroa mythology with an explanation of Te Feʻe Nui (the Great Octopus) and wayfaring history centered around Havaiʻi-Raʻiātea. Duration: 2:00

• The Sin at Awarua
http://archive.hokulea.com/holokai/1995/finney_awarua.html
This article by Ben Finney shares the remarkable story of the return of the Oceanic voyaging canoes to the cradle of navigation and the poʻo (head) of the feʻe (octopus) at Taputapuātea, Raʻiātea.
Pōmare Dynasty
The history and influence of the Royal Pōmare Family extends throughout much of French Polynesia. Its origins can be traced back to Fakarava and Anaʻa in the Tuamotu Archipelago, the House of Tamatoa in Raʻiātea, the island of Borabora, and the district of Porionuʻu in Tahiti. Uru, a progenitor of the Pōmare Family, is held to be a descendant of an ancestor, also named Uru or Ulu, who figures prominently in the chiefly genealogies of Hawaiians, Māori, and other Polynesians. Hawaiʻi's aliʻi nui (elevated chiefly) lineages are rooted in Tahiti and Raʻiātea as affirmed by traditional chants and genealogies.
The Pōmare and Kamehameha Dynasties honored each other's sovereignty throughout the 19th century, and a close relationship continues today between heiress Mysco Teiti Pōmare Boucard Kilian, daughter of the late Princess Elvina Pōmare Buillard, and Kamehameha Schools.
For information on the ʻAha Moananuiākea partnership with the Royal Pōmare Family, click the following link: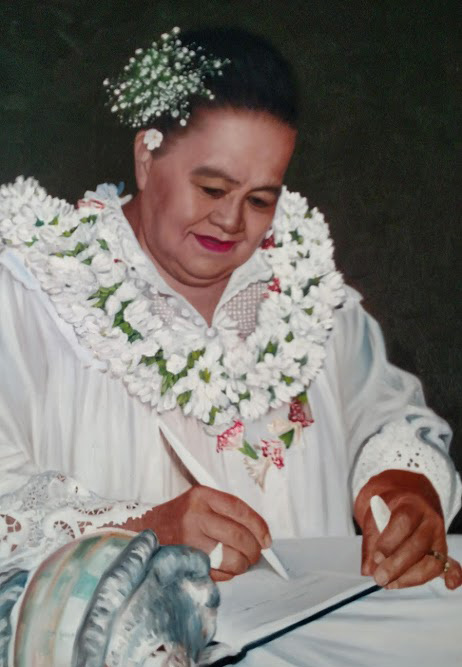 • Royalark.net – Tahiti: The Pōmare Dynasty
https://www.royalark.net/Tahiti/tahiti2.htm
This webpage is dedicated to recording and preserving royal lines and genealogies of the Pōmare Family.

• KidPedia – Pōmare Dynasty Facts for Kids
https://kids.kiddle.co/P%C5%8Dmare_Dynasty
This website includes information on the Pōmare Dynasty for young learners.

• Tahiti Nui – Change and Survival in French Polynesia
https://scholarspace.manoa.hawaii.edu/bitstream/10125/62908/2/9780824880323.pdf
This is a PDF of a book written by Colin Newbury called Tahiti Nui: Change and Survival in French Polynesia 1767-1945. Tahiti's social and political history is described while chronicling the roles of the Pōmare sovereigns. This 1980 book was updated and re-released in 2019.

• The Pōmare, A Dynasty (FRENCH, 2009)
https://www.youtube.com/watch?v=RLCMG0SwGoE
Presentation of the royal dynasty of Pōmare who reigned on the island of Tahiti. Discover the genealogy of this important family in the history of French Polynesia.

• Pōmare V (FRENCH, 2013)
https://www.youtube.com/watch?v=KGdCMfX5ggA
With a 50-year reign from 1827 to 1877, "Queen Victoria of the South Seas", Pōmare IV, was the privileged witness, at that time, of the religious then political conflict between England and France and of the establishment of the Protectorate on Tahiti.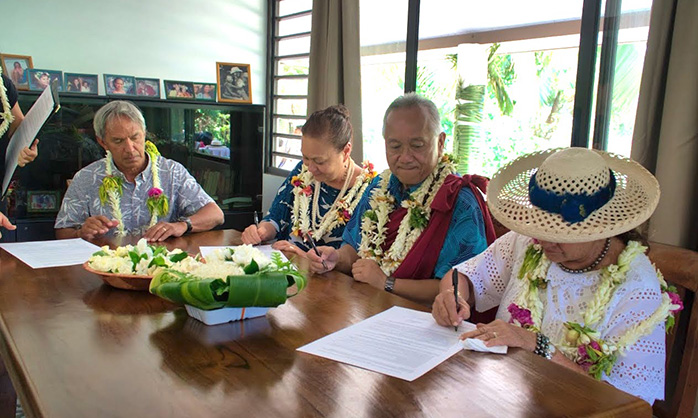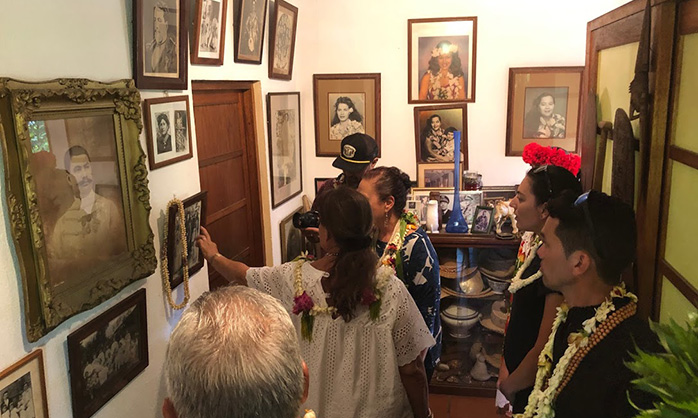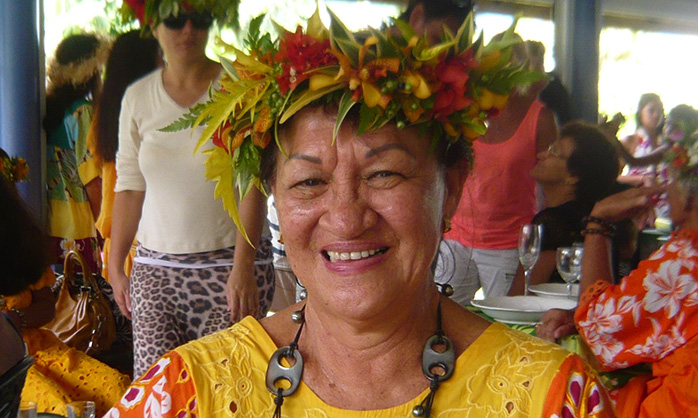 PHOTO GALLERY
Hōkūleʻa's initial landfall in Tahiti on its maiden voyage in 1976.

Hōkūleʻa surrounded by thousands of Tahitians in Papeʻete Harbor in 1976.

Popular Marina Taina in Punaʻauia, a short distance from the capital city of Papeʻete.

Picturesque Pāʻea is the location of the famous ʻĀrahurahu Marae.

Vaihiria is the only natural lake in Tahiti and is famously the setting of a traditional story involving the goddess Hina and an eel.

The reefs around Tahiti form impressive lagoons that are connected to the open ocean by a series of passes and small coral islets called motu.

Lagoon ecosytems are diverse in character and color.

Beautiful and storied Tautira is the beloved home of the Polynesian Voyaging Society whenever Hōkūleʻa travels to Tahiti.

The sacred island of Raʻiātea from the air.

Hauviri Marae is a temple devoted to chiefly investitures and is located within the larger Taputapuātea marae complex.

Marae Taputapuātea is among the most sacred sites in Polynesia and has been a UNESCO World Heritage Site since 2017.

The tiare ʻapetahi, the famous half-blossom of Raʻiātea, is found only at the very top of the sacred mountain, Te Mehani.