FRENCH POLYNESIA
Partnerships & Declarations
The ʻAha Moananuiākea Pacific Consortium has established three cultural partnerships in French Polynesia to honor the ancestral homeland of Kānaka Maoli – Native Hawaiians, celebrate long standing relationships that have developed over the past decades, and create ongoing cultural, educational, and environmental collaborations among Hawaiian and Māʻohi learning communities.
This 12-minute video features November 2019 declaration signing ceremonies in Tahiti and Raʻiātea to establish cultural partnerships with the French Polynesian Government, the community of Taputapuātea on Raʻiātea, and the Royal Pōmare Family.
THE FOLLOWING ARE LINKS to declarations that were signed by ʻAha Moananuiākea leadership and our respective French Polynesian partners. The signed documents are provided in Tahitian, Hawaiian, English, and French.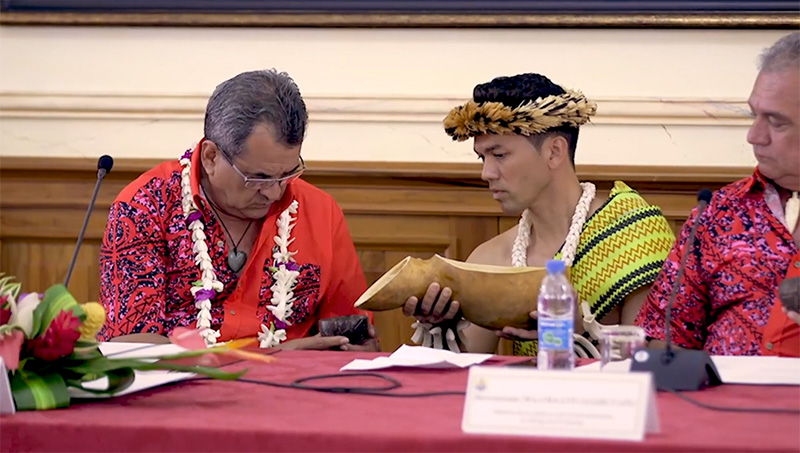 Declaration of Unity To Protect Island Earth Between French Polynesia & ʻAha Moananuiākea Pacific Consortium
Signed by French Polynesia President Édouard Tereori Fritch, and Minister of Culture and Environment Heremoana Maamaatuaiahutapu committing to a partnership that promotes our respective languages and cultural heritages, and the restoration and sustainability of the environment, especially our Pacific home.
November 13, 2019, The Presidency, Papeʻete, Tahiti, French Polynesia.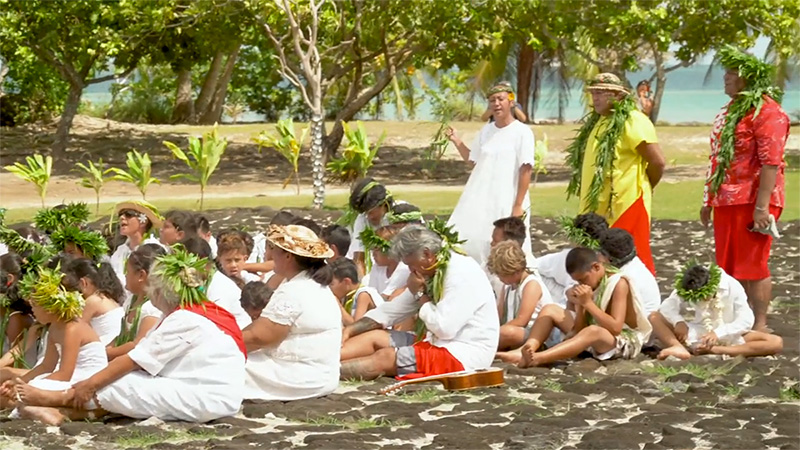 Declaration Honoring Marae Taputapuātea as a Hawaiian Heritage Site
Signed by Mayor Thomas Moutame of Taputapuātea District and the Council of Elders of Taputaputātea Marae affirming a shared Polynesian genealogy, a common voyaging heritage linking Raʻiātea/Tahiti and Hawaiʻi, and a collective acknowledgment recognizing sacred Taputapuātea Marae as a Hawaiian Heritage Site.
November 15, 2019, Taputapuātea Marae, Raʻiātea, French Polynesia.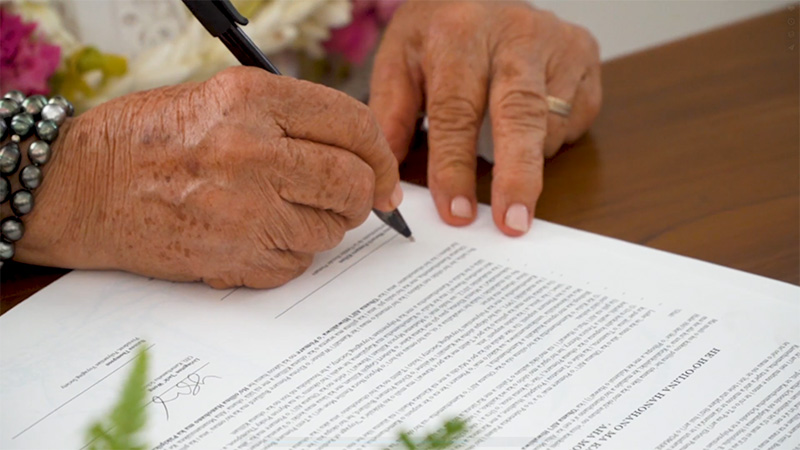 Declaration: Pacific Legacy of Distinction – Pōmare Royal Family
Signed by heiress Mysco Pōmare Kilian, daughter of Princess Elvina Pōmare Buillard, this declaration affirms the historical ties between the Kamehameha lineage and the Pōmare Royal Family whom we honor as a Pacific Legacy of Distinction. The declaration also affirms a commitment to nurture and grow the ongoing extended family relationship between Kamehameha Schools and the family of Mysco Pōmare Kilian.
November 16, 2019, Arue, Tahiti, French Polynesia.
Minister Heremoana Maamaatuaiahutapu visits Kamehameha Schools
This 3.5-minute video features highlights of a special visit to Kamehameha Schools by the Honorable Heremoana Maamaatuaiahutapu, Minister of Culture and the Environment of French Polynesia on September 9, 2019 to discuss the prospect of cultural partnerships with ʻAha Moananuiākea. The success of this visit resulted in the establishment of the cultural partnerships and signed declarations described above.
---
PHOTO GALLERY
In 2019, a Declaration of Unity was signed by the President and Minister of Culture of French Polynesia and ʻAha Moananuiākea at the Presidential Palace in Papeʻete, Tahiti.

The Declaration of Unity affirms a shared commitment to the strengthening cultural exchange, language revival, and environmental protection of the Pacific.

Left to Right: Nainoa Thompson (PVS President), President Edouarde Fritch (FP Government), and Alban Ellacott (Tainui Friends of Hōkūleʻa President) at Taputapuātea.

Randie and Jamie Fong, Mayor Moutame and the Council of Elders of Taputapuātea.

Randie Fong and Papa Maraehau Tavaeariʻi, senior elder of Marae Taputapuātea.

Marae elders partake of ceremonial ʻawa at the declaration signing ceremony.

The Late Princess Elvina Pōmare Buillard and her family have always extended chiefly hospitality to Kamehameha Schools and the Hawaiʻi voyaging family.

Royal family heiress, Mysco Pōmare Kilian and husband Conrad Gogoli Kilian at ʻĀrue, Tahiti.

ʻAha Moananuiākea honored the Pōmare Family by presenting them with a declaration as a Pacific Legacy of Distinction.

The Kilian family was presented with a special artwork called "Kealaikahiki" created by Herman Piʻikea Clark.

The traditional home of the Tahitian royal family is filled with historical portraits and artifacts including personal items of Pōmare I through Pōmare V.

Mysco Pōmare Kilian, Tahitian Royal Family heir.