AOTEAROA
Ngāti Ruawāhia
Ngāti Ruawāhia, the Sixth Tribe of Te Tai Tokerau, is a special honorary designation. It was bestowed upon Hawaiʻi in recognition of the historic landfall of the Hōkūleʻa at Waitangi, and the extraordinary pride and resolve it inspired in the hearts of multiple generations of people throughout Aotearoa, the Pacific, and around the world.
Ceremonially, Ngāti Ruawāhia is an exclusive Māori reference to the Polynesian Voyaging Society extended family which includes the crew of the Hōkūleʻa, voyage coordinator and sponsor Kamehameha Schools, and all the people of Hawaiʻi who were represented on the occasion of the 1985 arrival in Aotearoa. The term "tribe" reflects a Māori worldview within which Hawaiʻi is seen to have standing as a formal social body, an iwi, even though Hawaiʻi is not truly a tribe in the literal sense. There is no known circumstance outside of this context where a tribal designation has been similarly awarded. In that light, this uncommon distinction is acknowledged and accepted in the spirit of graciousness with which it was bestowed.
THIS SECTION PROVIDES the historical and cultural context for this unique tribal heritage. It is a resource for all who are committed to nurture, protect, and perpetuate the extraordinary legacy of Ngāti Ruawāhia for generations to come.
What is Ngāti Ruawāhia? The Sixth Tribe of Te Tai Tokerau
In 1983, in preparation for the Voyage of Rediscovery, a young Nainoa Thompson was anxious to learn the stars of the southern hemisphere. Advised by noted scholar and elder John Rangihau, Nainoa made his way to Aurere, a rural area overlooking Tokerau Beach along Doubtless Bay. Unannounced, he arrived late on a rainy night at the doorstep of then bridge-builder, Hector Hekenukumai Ngāiwi Pūhipi Busby. The two spent the next year together keenly observing the night sky as Hector recounted stories of the tūpuna. That relationship would change history. With firm resolve, Hector told Nainoa:
"In this land, we still have our canoe buried. In this land, we still have our language and we trace our genealogies back to the canoes our ancestors arrived on. But we have lost our pride and the dignity of our traditions. If you are going to bring Hōkūleʻa here, that will help bring it back. Whatever you need to do, I am with you all the way."
On December 7, 1985, after years of training and anticipation, Hōkūleʻa made its way into the Bay of Islands escorted by the 80-man war canoe, Ngātokimatawhaorua. Several hundred members of the Tai Tokerau community lined Te Tii Beach to prepare for the pōwhiri, the rituals of encounter and greeting. The arrival of Hōkūleʻa proudly affirmed Polynesian ingenuity and effectively quieted the white academic critics. Inspired by the historic landfall, the revered Māori elder, Sir James Henare, made a series of declarations. He lauded the Hawaiians for arriving in the region by voyaging canoe just like the founding ancestors of the existing five tribes had done centuries earlier. Therefore, he declared that the Hōkūleʻa represented a "sixth tribe" of Te Tai Tokerau, which is the region that extends from West Auckland on the southern end, all the way to the tip of Te Rerenga Wairua in the far north.
Sir James then challenged Māori to follow suit with their own voyaging waka. This became a personal calling for Hector, which he pursued vigorously and fulfilled in grand form with the completion of the iconic Te Aurere canoe and its Pacific-wide voyages of over 30,000 nautical miles, encompassing Hawaiʻi, Nukuhiva, Tahiti, Rarotonga, and Rapa Nui.
Soon after the 1985 landfall, Sir James, Sir Graham Latimer, and other revered kaumātua affirmed a process initiated by Hector for the naming of the Hawaiian tribe. Ngāti Ruawāhia means "tribe of the star Arcturus" which is Hōkūleʻa in Hawaiian. Then in 1992, a Hawaiian poupou named "Māuipāmamao" was created by Hōnaunau carver William Puou and erected at Te Tii Marae, Waitangi as the first physical manifestation of the Sixth Tribe.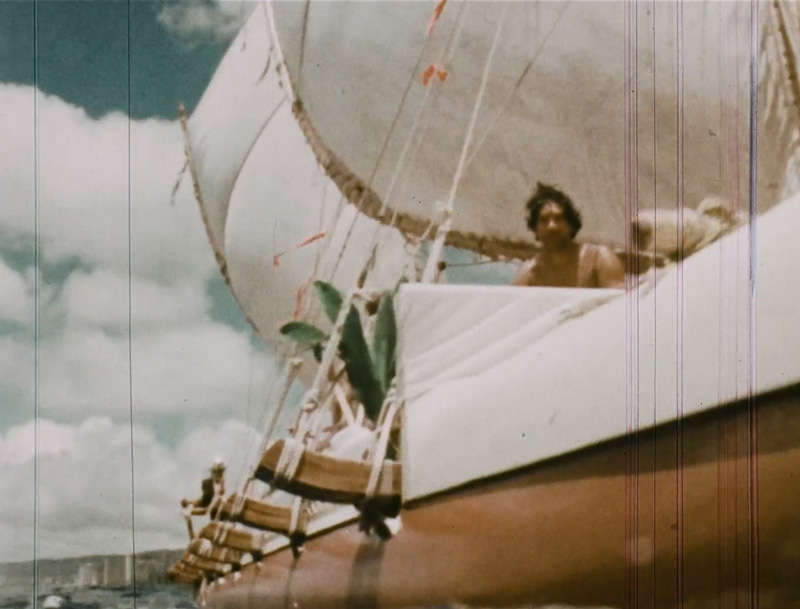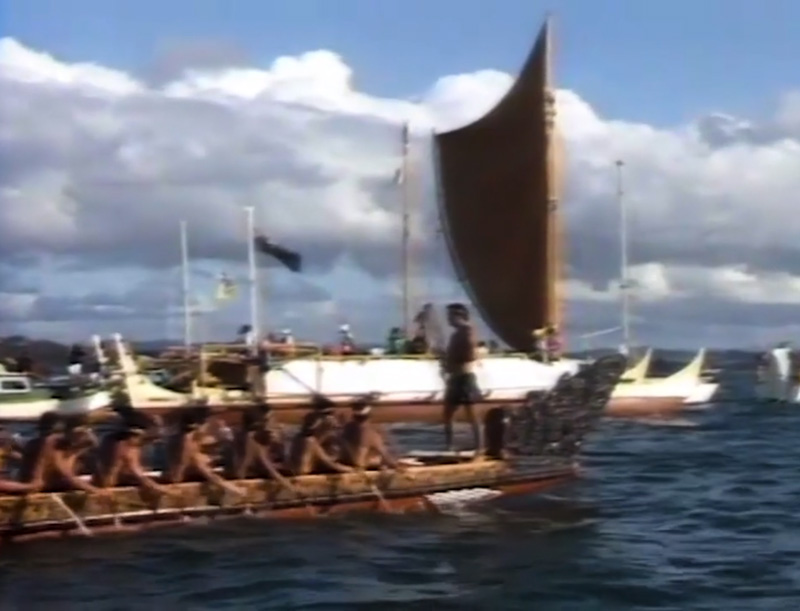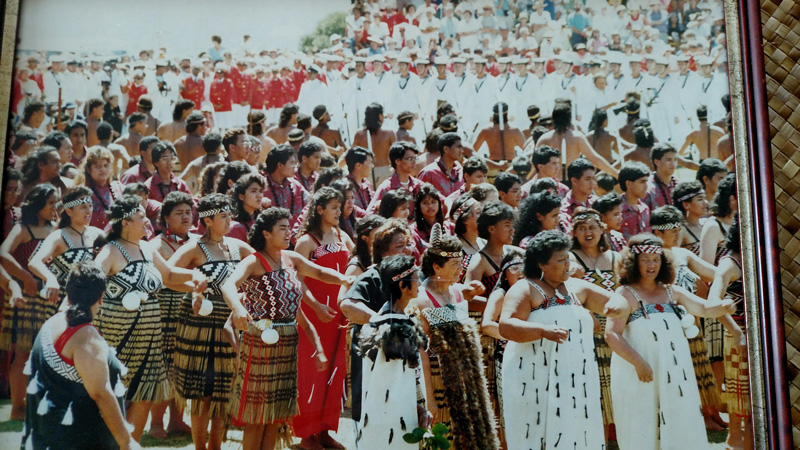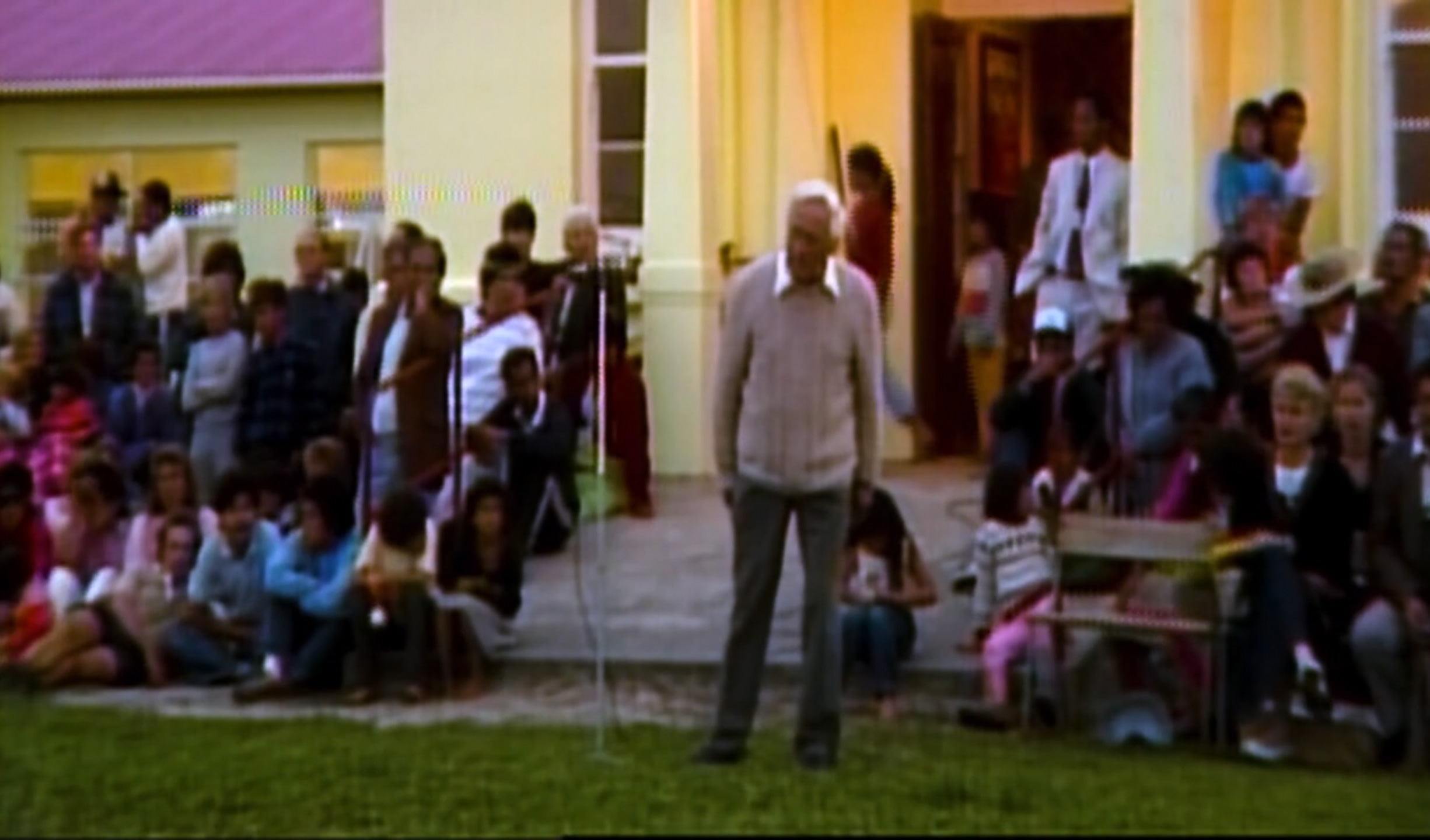 NGĀTI RUAWĀHIA is an extended family heritage that has been stewarded by two affiliated organizations since the 1985 landfall: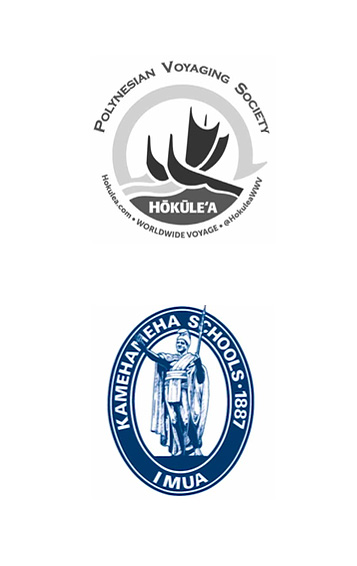 (1) the Polynesian Voyaging Society, which built and sails the Hōkūleʻa, and perpetuates traditional navigation and voyaging, and
(2) Kamehameha Schools, which has coordinated logistics and planning, provided resources and student involvement, and continues to serve as cultural and educational advisor for PVS. From 1990 on, Kamehameha Schools staff and students continued to make periodic visits over the course of some twenty years to honor and maintain our Ngāti Ruawāhia heritage. Then in 2014, Hōkūleʻa made a return sail to Waitangi after almost 30 years as part of the Mālama Honua Worldwide Voyage. This helped draw Pacific attention to Ngāti Ruawāhia's tribal status, Hector's senior standing in the voyaging world, and the sustainability platform of the voyage which culminated with Hector's blessing at Hōkūleʻa's homecoming celebration in Honolulu in 2017.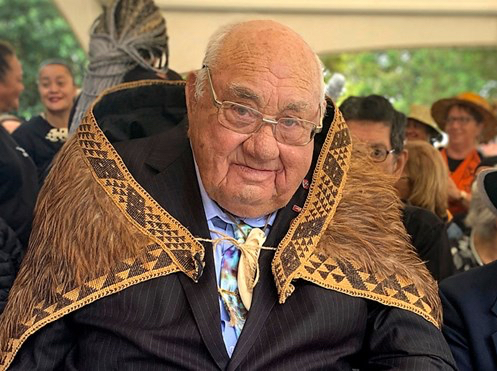 Throughout 2018, months before the New Zealand Parliament granted construction funds, some 25 Kamehameha Schools representatives of Ngāti Ruawāhia came to Aurere on three occasions to honor Hector, and to clean the interior and exterior of the unfinished whare wānanga of the proposed Kupe Waka Centre, Hector's long anticipated dream. Private donations from Hawaiʻi provided humble construction services in preparation for a dedication ceremony that Ngāti Ruawāhia was invited to conduct. Hector named the house Whetū Mārama. He then signed a Declaration of Kinship with the ʻAha Moananuiākea Pacific Consortium which set the stage for cultural-educational collaborations, the refurbishing of Te Aurere, and plans for modest accommodations on land at Aurere which Hector envisioned for Ngāti Ruawāhia members visiting the Kupe Waka Centre. Finally, this partnership positions the Kaʻiwakīloumoku Hawaiian Cultural Center – where Hector was honored in special ceremonies – to serve as a "sister center" to the Kupe Waka Centre upon completion.
Ngāti Ruawāhia received special invitations to attend ceremonies at the historic carved meeting house, Te Whare Rūnanga, at the Waitangi Treaty Grounds. On February 4, 2019, Hector was awarded the Knight Companion of the New Zealand Order of Merit, a long overdue distinction that entitled him to be formally addressed as Sir Hekenukumai Pūhipi. This was in recognition of his navigation, voyaging, and canoe-building legacy of 35 years, which Sir Hek often pointed out, first began on that rainy night when Nainoa showed up at his doorstep at Aurere in 1983.
Three months after his knighting, Sir Hek's sudden and untimely passing was a devastating blow for everyone. Ngāti Ruawāhia made the pilgrimage back to the Northland, this time to his marae at Pukepoto to grieve and reflect. While he is sorely missed, Hector's departure has prompted many in the Pacific to step up and lead, and to proactively carry his legacy forward. This has certainly been the case for the proud members of the Sixth Tribe. In that spirit, it is with great honor that we celebrate our rich history, perpetuate our tribal heritage, and chart the course for the next generation of Ngāti Ruawāhia, te Iwi Tuaono o Te Tai Tokerau.
Ngāti Ruawāhia History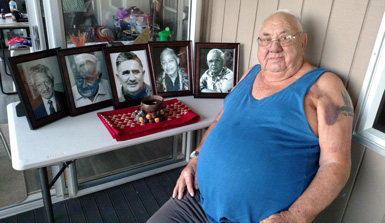 With photographs of departed elders looking on, the 85-year old Hector Busby prepares for the December 2018 dedication of the long-awaited Kupe Waka Centre at his home in Aurere. Pictured in background from L-R: John Rangihau, James Henare, Graham Latimer, Mau Piailug, and Myron "Pinky" Thompson.
For a fuller historical narrative on the Sixth Tribe, please see the following link:
Ngāti Ruawāhia History and Vision for the Future
[
Downloadable pdf
]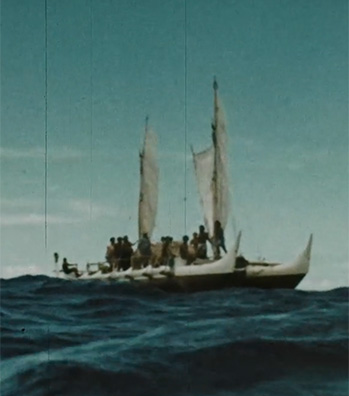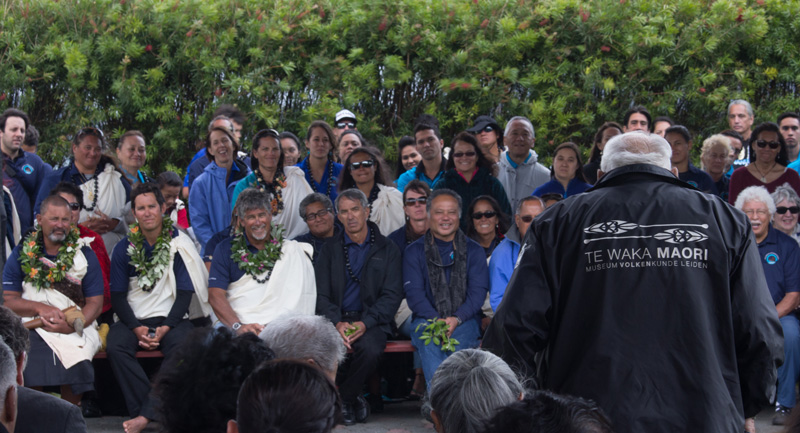 "Ngāti Ruawāhia" – Tribal Mele
Below are links to an audio recording and lyrics.
NGĀTI RUAWĀHIA
COMPOSED BY RANDIE KAMUELA FONG AND HECTOR BUSBY, c. 1992
E Ngāti Ruawāhia (Ngāti Ruawāhia!), e Ngāti Ruawāhia (Ngāti Ruawāhia!)
Hōkūleʻa Tribe, Hōkūleʻa Tribe
I ka ʻale kai, ka ʻale ʻī, ka ʻale moe, ka ʻale o nā motu ē
On the wave crest, the rising billows, the falling billows — island waves
E tū mai e tuʻu tama i ka pola o ka waʻa kaulua
Stand, my son, on the deck of the canoe
Me ka hā nui, ka hā loa, ka hā hoʻomau (te waka!)
And draw a deep and full breath — the persistent breath of life (the canoe!)
E hātiro mai ʻoe iaʻu nei, iaʻu nei lā; e hātiro mai ʻoe iaʻu nei, iaʻu nei lā
Keep a close eye on me — be watchful and vigilant
E Ngāti Ruawāhia (Ngāti Ruawāhia!), e Ngāti Ruawāhia (Ngāti Ruawāhia!)
Hōkūleʻa Tribe, Hōkūleʻa Tribe
"Waitangi" – Mele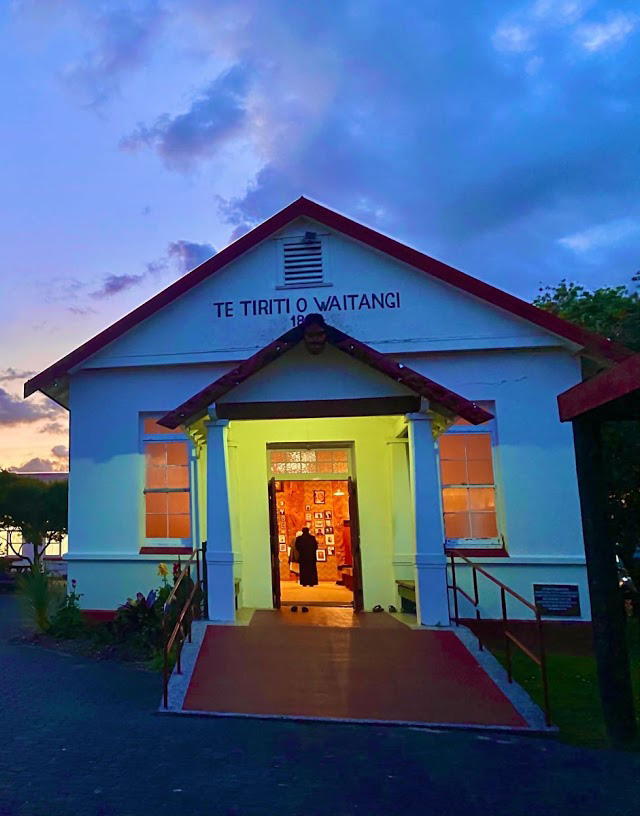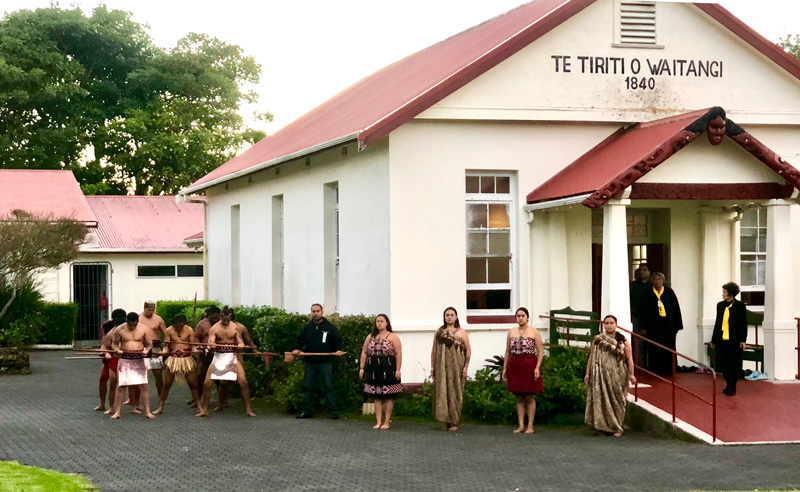 Below are links to an audio recording and lyrics.
WAITANGI
COMPOSED BY TOMMY TAURIMA
Waitangi, home of enchanted waters,
Land of sunshine and rainbows, where the chief met long ago
Waitangi, e mau mahara nei
Na te mea i ko nei ra, ka hui ngā ariki
Long ago when New Zealand was young
It was there that we all became one
Waitangi, I will remember this day
I will love you forever, call to me far away
Tangi wai mo ngā tīpuna ē
Ko ngaro nei e koro ma kei whea
Waitangi, I will remember this day
I will love you forever, call to me far away
Call to me far away (Waitangi!)
Te Tii Marae
Located along the southern bank near the mouth of the Waitangi River is the historic Te Tii Marae. Designated as a Ngāti Ruawāhia Heritage Site, this marae was the site of the 1985 arrival ceremony for the Hōkūleʻa and where Sir James Henare made his declaration regarding the "Sixth Tribe of Te Tai Tokerau." Below are links to the Declaration of Kinship and the Te Tii Marae website.
Declaration of Kinship, Te Tii Marae
[Downloadable pdf]
Te Tii Marae, website link
https://www.tetiiwaitangi.co.nz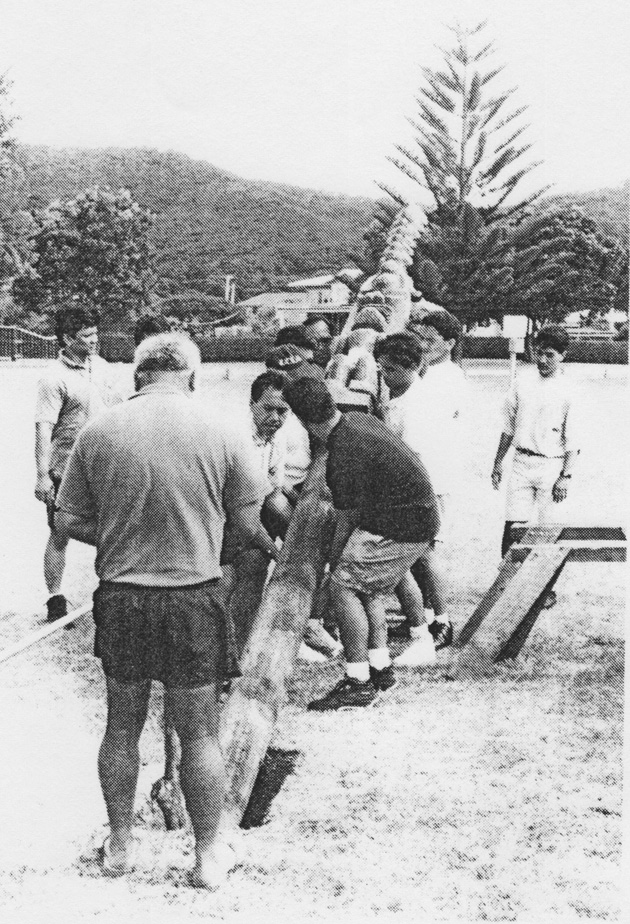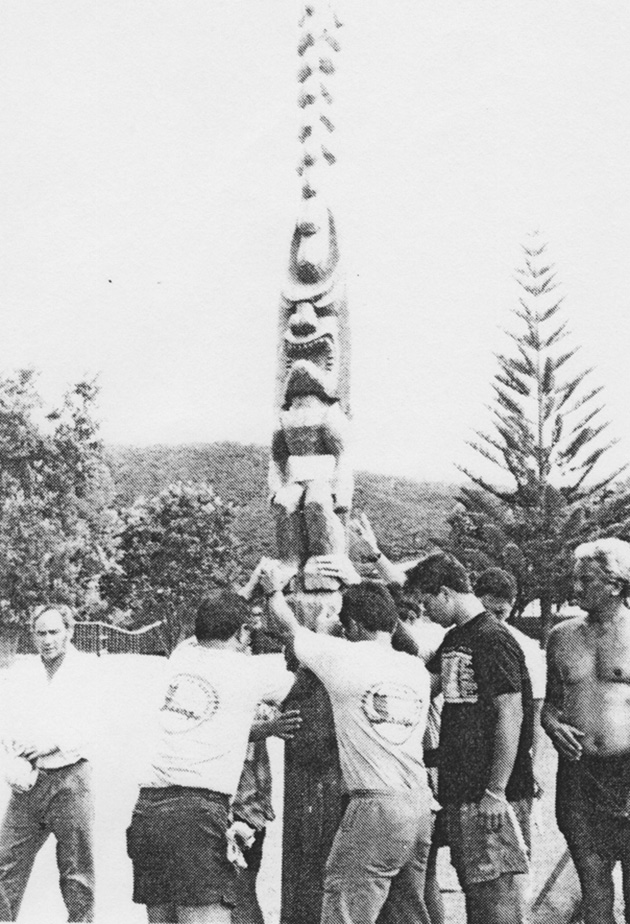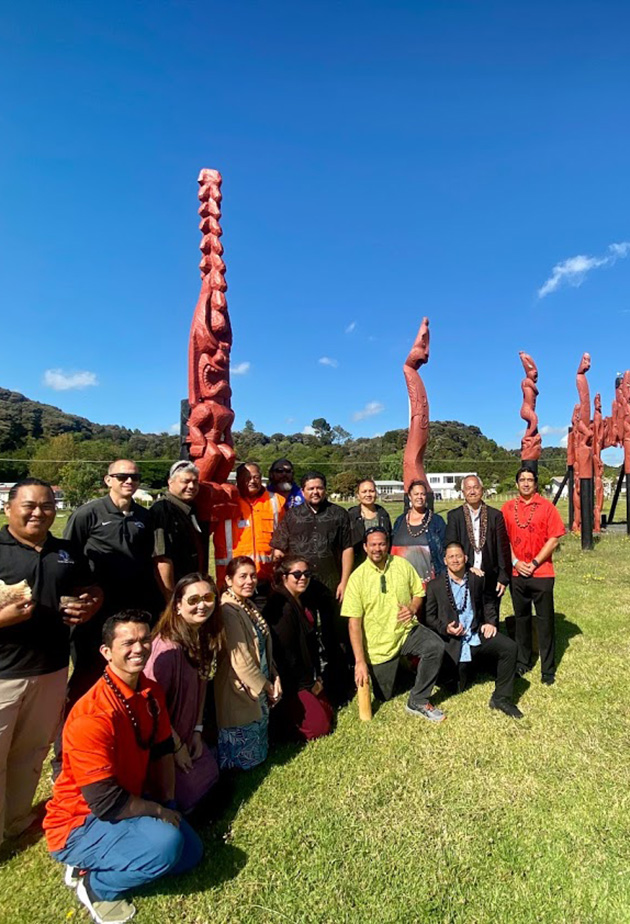 Māuipāmamao
Māuipāmamao, the ancestral poupou for Ngāti Ruawāhia, was erected at Te Tii Marae in January 1992. Carved by William Puou of Hōnaunau, Kona, the poupou was created from ʻōhiʻa wood and erected alongside the carved pantheon of Tai Tokerau tribal ancestors. Lashed by Nainoa Thompson and dedicated by his father Myron "Pinky" Thompson along with representatives of Kamehameha Schools and the Polynesian Voyaging Society, the poupou Māuipāmamao – Māui that touches the farthest extremities – was the first physical manifestation of Ngāti Ruawāhia, the Sixth Tribe of Te Tai Tokerau. The poupou has gradually deteriorated over time outside of its endemic home environment, Hawaiʻi. Plans are now underway to carve a new poupou made from kauri wood belonging to Sir Hekenukumai Busby.
Enjoy a video series produced by Kaʻiwakīloumoku carver, Kumulāʻau Sing, about our proud Ngāti Ruawāhia heritage.
Kupe Waka Centre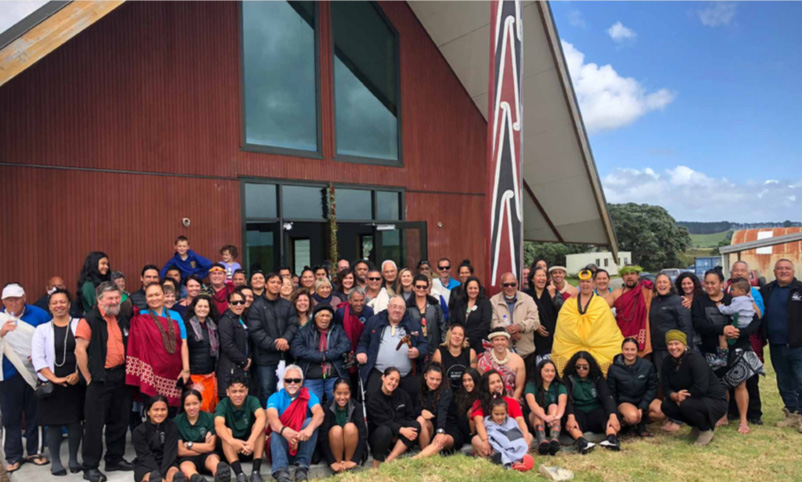 Members of the voyaging community, students, and family gather at the opening ceremonies of the whare wānanga, Whetū Mārama, of the Kupe Waka Centre on December 6, 2018 in Aurere, Aotearoa.
The Kupe Waka Centre is envisioned to be the national waka centre for Aotearoa. Set to open in 2021, it will serve as a school of canoe carving and ancestral navigation where visitors can learn about traditional voyaging. Honoring the memory of Sir Hekenukumai Busby, the centre's mission is to share the knowledge and experience of ocean-going waka sailing and celestial navigation which forms an integral part of Aotearoa's cultural heritage. Envisioned as a sister center to Kaʻiwakīloumoku Hawaiian Cultural Center at Kapālama, Oʻahu, both centers will promote cross-cultural learning in the Pacific.

The world's largest outdoor star compass is at Aurere, site of the long-anticipated Kupe Waka Centre.
Below are links to more information related to Ngāti Ruawāhia:
Aotearoa Partnerships and Declarations
Aotearoa Learn More About