Bernice Pauahi Bishop Heritage Center
History and Background
The Heritage Center was originally conceived as both a visitors' center and a reception area for Kamehameha Schools. It is reminiscent of Haleakalā, the home of Princess Bernice Pauahi Pākī and her husband, Charles Reed Bishop, a welcoming place and social center famous for its hospitality. Constructed in 1987 and dedicated in 1988 as part of the Kamehameha Schools Centennial Celebration, the Heritage Center was envisioned to commemorate the spirit of Princess Pauahi by imparting knowledge about her life and legacy amidst a setting of her personal possessions.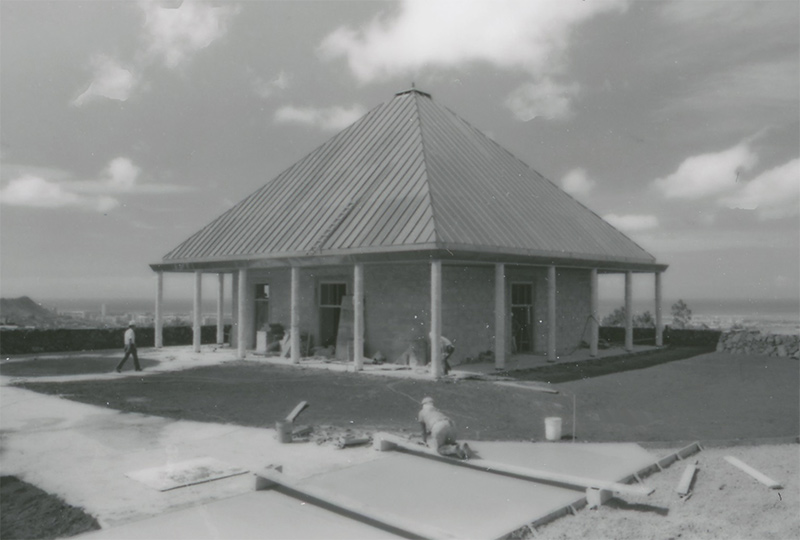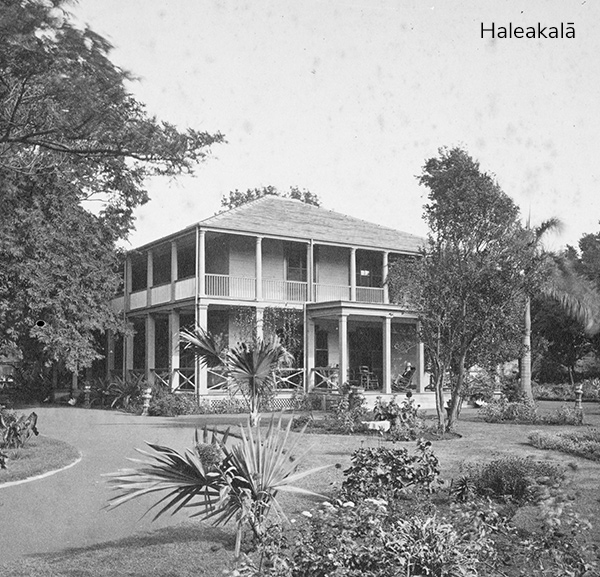 Design of the House
The Heritage Center was designed with prominent features that lend to its unique character including a pyramid roof, perhaps a symbol of ʻAikupika (Abner Pākī's name for his estate), wrap-around lānai and spacious windows allowing for hosting guests in a breezy, pleasant setting. Here is an excerpt from original plans for the Heritage Center:
"The chief form of the Center is the pavilion designed to house the suite of furniture owned by Bernice Pauahi Bishop. This pavilion is a combination of perfect geometric forms – a square and a pyramid, shapes often employed when monumental architecture is desired. To the square is added delicate cast coral stone columns and the pyramidal roof is rounded at the peak. These steps are taken to lend a more Hawaiian character to the pavilion…The balance of the Heritage Center is treated as a subordinate structure to the pavilion in a manner recalling the long, low houses occupied by retainers at Haleakalā. Native stone veneer matching the stone platform covers the walls and the entire mass is developed like the end walls of Pu#699;ukoholā Heiau at Kawaihae."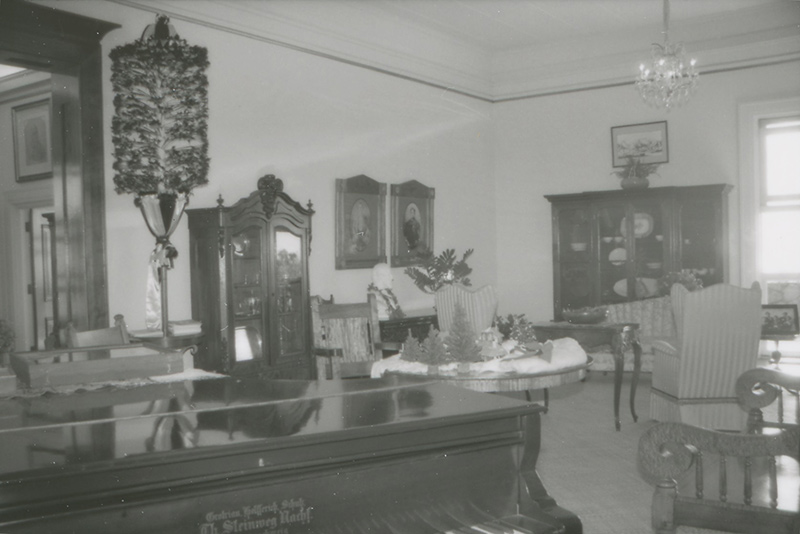 Furnishing
The Heritage Center was designed as a realistic interpretation of a 19th century house associated with aliʻi. Its interior contains household furnishings and personal effects of Princess Pauahi, as well as carefully selected paintings depicting aspects of the Bishop's life. An excerpt of original planning documents share, "…it is the intention to remind any visitor or member of the Kamehameha ʻohana that the Schools represent the dreams of a real person." Most of the furnishings now located in the Heritage Center were once used in the Kamehameha School for Girls, having been donated by Charles Reed Bishop. Here is an excerpt from original planning documents:
"Nearly all furniture [that was being stored in Kīnaʻu Building] came to Kamehameha when Mr. Bishop distributed the contents of Keōua Hale prior to his departure to California in 1894. A few pieces came from the E. Faxon Bishop family… Mr. Bishop in his practical nature sent Kamehameha School for Girls articles which would be useful in the operation of a boarding school… Kāhili and stands will require replication as no other items are so indicative of aristocratic Hawaiʻi."
Interior layout
Since there were no representations of the original Haleakalā interior known to exist at the time the Heritage Center was built, its interior design concept was informed by existing examples in Hawaiʻi, such as Huliheʻe Palace. These are the main areas of the Heritage Center, and each has special significance:
Entry / Reception Room
Bedroom / Keʻelikōlani Room
Living / Music Room
The interior was designed as flexible space capable of different activities, including tours and classroom visits tailored for different age groups, educational exhibits themed appropriately for the setting, musical recitals, and demonstrations of cultural arts by expert practitioners.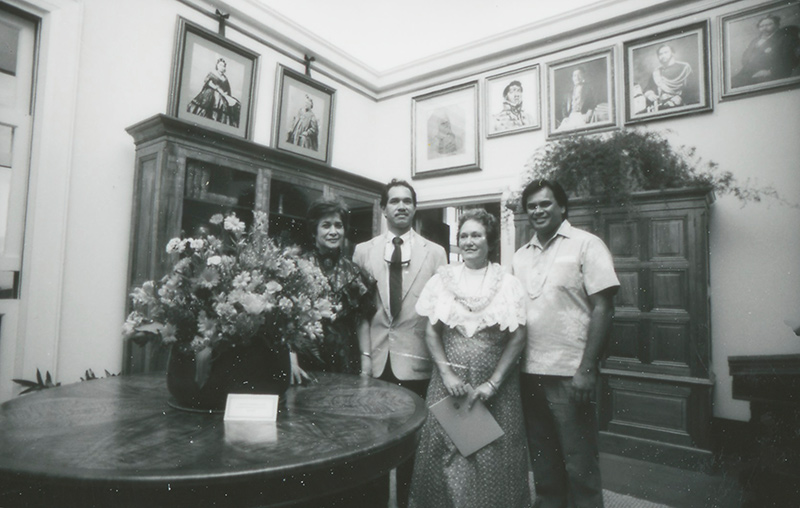 L-R: Julie Stewart Williams, Keoni Dupont, Augusta Bento, and Nuʻulani Atkins in the early days of the Heritage Center.
For many years, the Heritage Center and those who visited were lovingly cared for by true treasures of the Kamehameha Schools and Hawaiian community.
Guided by the careful stewardship and deep cultural expertise of Augusta Helen Bento and Nuʻulani Atkins, and supported by wonderful teachers Ruby Lowe and Kaleinani Brown, the Heritage Center became a beloved place for students, teachers, staff, community members, and visitors to learn more about Princess Pauahi's life and legacy, as well as the rare opportunity to experience hands-on lessons in feather work, weaving, quilting, lei-making, and other Hawaiian arts.
Other curators to care for the Heritage Center over the years include Puanani "Babes" Hanchett, and today Nanea Armstrong-Wassel looks forward to welcoming students, staff, and visitors to learn more about Princess Pauahi, the Kamehameha dynasty, and aliʻi history.