ALASKA
Partnerships & Declarations
The ʻAha Moananuiākea Pacific Consortium has established two cultural partnerships with Alaska Native organizations. The main purpose of these collaborations is to celebrate the shared Pacific worldview and common indigenous values and experiences of Native Hawaiians and Alaska Natives, as well as to honor and grow a special relationship that began in 1990 with the gifting of logs from Alaska forests to construct a traditional Hawaiian voyaging canoe.
This is a 10.5-minute video featuring highlights from a conference hosted by ʻAha Moananuiākea in May 2019 called Hoʻoilina: Empowering our Traditions of Exploration which brought nearly a hundred Alaska Natives to Honolulu to engage with their Hawaiian extended-family in meaningful conversations, enriching panel discussions, and inspiring ceremonies. Two declarations were signed at the conference setting the stage for cultural-educational exchanges between our two learning communities.
THE FOLLOWING ARE LINKS to two ʻAha Moananuiākea declarations that recognize a special northern Pacific affinity and kinship between the people of Hawaiʻi and Alaska.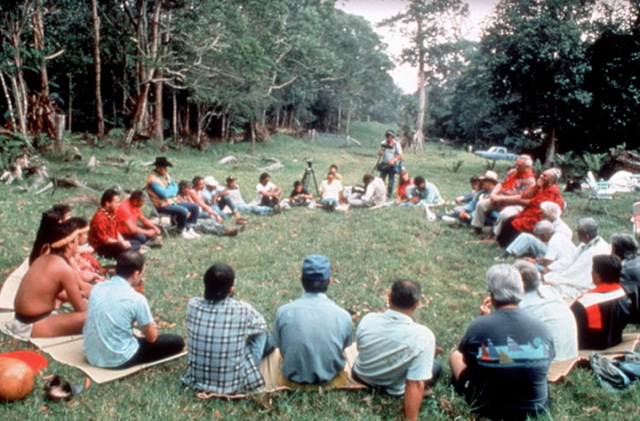 Declaration of Kinship: Sealaska Corporation
Signed by the board chair, board members and CEO of Sealaska Corporation to honor the legacy of kindness expressed through the gifting of Sitka spruce logs for the construction of the Hawaiʻiloa canoe in 1990. Revered elder Judson Brown and distinguished leader Byron Mallott are fondly remembered and memorialized in this declaration.
May 30, 2019, Marine Education Training Center, Honolulu, Hawaiʻi.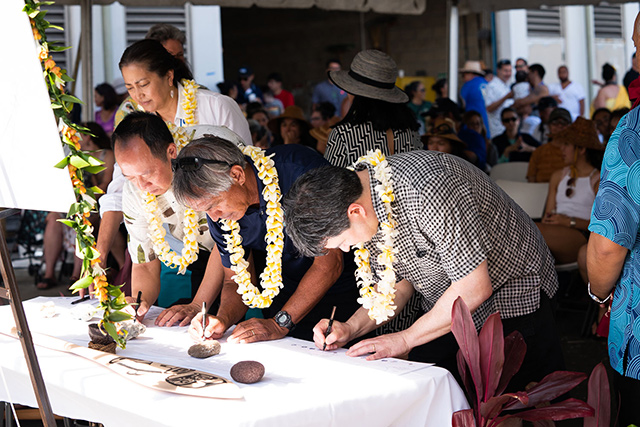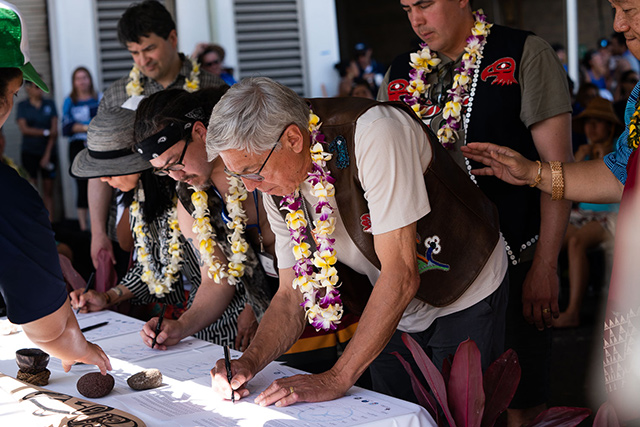 Declaration of Unity: Alaska Native Organizations
Signed by the native peoples and members of indigenous-serving organizations of Alaska and Hawaiʻi to affirm our unity and resolve as indigenous people of the North Pacific Ocean: Sealaska Corporation, First Alaskans Institute, Tlingit and Haida Central Council, Yakutat Tlingit Tribe, University of Alaska Southeast, Polynesian Voyaging Society, Kamehameha Schools, University of Hawaiʻi, Bernice Pauahi Bishop Museum, Goldbelt Heritage Foundation, Woosh.ji.een, and others.
Hoʻoilina: Empowering our Traditions of Exploration Conference, May 28 – 30, 2019, Kamehameha Schools, METC, and Bishop Museum, Honolulu Hawaiʻi.
Spirit of the Land: In the Wake of Our Ancestors
This 28-minute video brilliantly captures the extraordinary story of the gifting of Sitka spruce logs by Sealaska Corporation to the Polynesian Voyaging Society to construct the Hawaiʻiloa canoe in 1990. This documentary was produced and directed by Gail Evanari.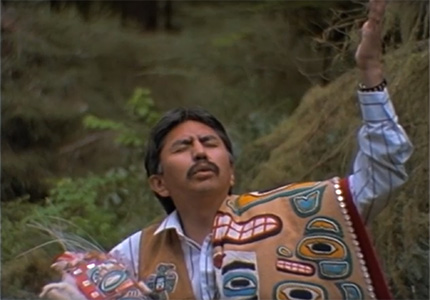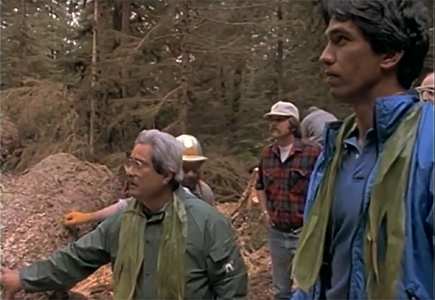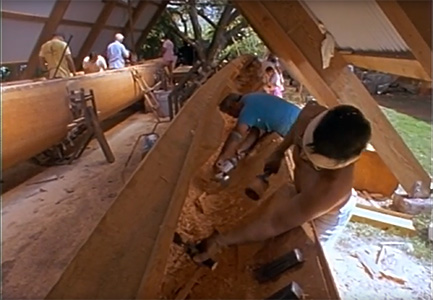 ---
Hoʻoilina Alaska-Hawaiʻi Conference 2019
Below is a list of twelve thematic statements that were generated by the some two hundred participants in the Hoʻoilina Conference that took place at Kamehameha Schools in May 2019. Each of the twelve themes has multiple bullet points — see the following link to Hoʻoilina Notes for the full complement of themes and details from the discussion groups.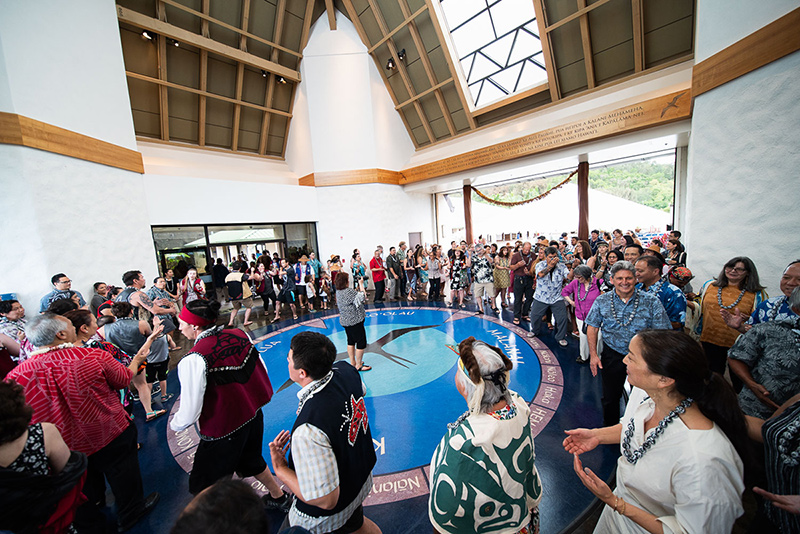 CONFERENCE STATEMENTS
There are inextricable links between environment, language, identity, and healing.
Balance is a paramount cultural value.
We carry our ancestors, mentors, and leaders with us always.
Our peoples have strong canoe heritages.
Our environments are "ocean forests."
We have experienced colonization and are affected by historical trauma.
We have the strength and tools to heal our people.
Our languages are part of our identity and help us heal.
We must think of change at the systems level.
With knowledge comes the responsibility for action.
There is power in single moments and of individuals and individual actions that become part of the whole movement.
Future generations are our hope.
PHOTO GALLERY
Judson Brown, revered Tlingit leader instrumental in gifting of spruce logs to Hawaiʻi in 1990.

Hawaiian and Alaska Native leaders offer blessing before planting koa on Hawaiʻi Island, 1990.

Hawaiʻiloa Canoe in 1995.

Hawaiian and Alaska Native leaders reunite for koa planting on Hawaiʻi Island, 2019.

KS CEO Jack Wong and Alaska Native leader Byron Mallot pose with freshly made maile lei.

Sealaska leaders and families hosted by Kamehameha Schools at koa forest on Hawaiʻi, 2019.

Alaska Native leaders, Nainoa Thompson, and Jack Wong sign declaration of kinship.

Executive leaders of ʻAha Moananuiākea and Sealaska in front of Hawaiʻiloa (in drydock), Hoʻoilina Conference, 2019.

PVS President Nainoa Thompson and Tlingit leader and close friend Byron Mallot at Bishop Museum, 2019.

Alaska Native children perform at Celebration, a bi-annual cultural festival held in Juneau.

Vibrant tribal canoes arrive on the shores of Douglas, Juneau for Celebration festival, 2018.

ʻAha Moananuiākea says "Gunalcheesh" a Tlingit expression of acknowledgment and regard.